START debate: 3 things nuclear arms treaty would do, 3 things it won't
On the grand scale of nuclear arms reduction, the new Strategic Arms Reduction Treaty President Obama signed with Russian President Dmitry Medvedev last April – known in Washington shorthand as New START – is considered a modest document. Yet it has become a lightning rod for contentious debate over related issues like missile defense and US-Russia relations, which the treaty does not directly address.
The push is on for the Senate to ratify New START before the lame-duck session ends. The treaty is endorsed by former President George H.W. Bush (R), whose support may offset the suggestion that New START's ratification would mainly be a foreign-policy boost to a Democratic president whom the Republicans just a month ago had on the ropes.
Here's a look at three things New START would accomplish – and three things it would not.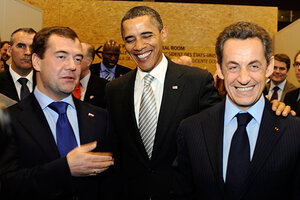 Dominique Faget/Reuters
6.

DOES further reduce strategic nuclear arsenals of both counties.

The treaty calls for both Russia and the United States to draw down to no more than 1,550 strategic nuclear warheads within seven years. These are weapons designed for taking out "soft" targets, such as cities, in long-range missions of a nuclear war.

Russia currently deploys about 2,600 such warheads; the US arsenal hovers somewhere below 2,000. The original US-Russia arms reduction treaty, proposed by President Ronald Reagan, limited each side to 5,000 long-range warheads.