Mullen's accusations: Has US reached its limit with Pakistan?
Adm. Mullen's public accusation that Pakistani intelligence was involved in militants' attacks on US targets in Afghanistan suggest that the US has reached its limit with its 'strategic partner.'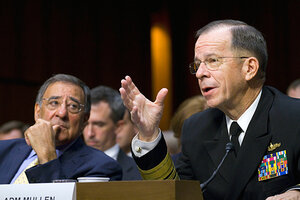 Harry Hamburg/AP
Warnings of new lows in US-Pakistan relations have popped up like mushrooms in past years, but in recent days "even worse" seems accurate to describe the state of play between the two "strategic partners."
Public accusations of Pakistani involvement in recent attacks on US targets in Afghanistan leveled by Adm. Mike Mullen, the chairman of the Joint Chiefs of Staff, before a Senate committee Thursday suggest that the United States has reached a limit.
Admiral Mullen's dire appraisal of the relations between the two countries leaves the door open to new unilateral US military actions inside Pakistan beyond recent stepped-up drone attacks, and even beyond last May's surprise special-forces operation to get Osama bin Laden, which so enraged Pakistanis.

Recommended:
Pakistan refuses to battle Haqqani network
A fed-up Mullen may be signaling that US incursions into Pakistan to take out militant groups the Pakistanis refuse to touch could be on the horizon – and that the Pakistanis could only blame themselves for it, some national security analysts say.
US claims of a direct link between Pakistan's intelligence services and the Haqqani network, one of Pakistan's most powerful and anti-US militant groups, are nothing new. But the Sept. 13 attack on the US Embassy in Kabul – and reports that cell phones found on the attackers were linked to the ISI, Pakistan's intelligence agency – offered a new level of proof of Pakistani complicity with Islamist militants.
Moreover, the fact that last week's accusation was made publicly, and that it came from Mullen, was striking.
Probably no US military official has worked harder to repair relations and met more with his Pakistani military counterparts than Mullen to try to convince them of the need not just to sever ties to the Haqqani group, but to actually take it on, analysts say. Most recently, in mid-September, Mullen spent more than two hours with the Pakistani military chief, Gen. Ashfaq Parvez Kayani, on the sidelines of a NATO meeting in Spain, Pentagon officials say.
But Mullen is suggesting that the window for imploring the Pakistanis to act is closing. The US shouldn't wait long to take action, some regional analysts say – even if it could mean a breakdown in US-Pakistan relations.
"While there are risks inherent to going down a more punitive path with Pakistan, the recent information on ISI links to the attack in the US Embassy leaves the US with no other option," says Lisa Curtis, a South Asia expert at the Heritage Foundation in Washington.
If the reports of cell phone links between the Embassy attackers and the ISI are accurate, Ms. Curtis says, it would be the first time the US had a "smoking gun" on Pakistani collusion with anti-US militants.
The Pakistani response to the US accusations followed a familiar pattern of denial – and of high-level refusals to take US orders and go after the Haqqanis. The Pakistani argument has long been that Pakistani militant groups operating inside Afghanistan are a hedge against eventual US withdrawal, and that they operate as proxies for advancing Pakistani interests in the arena of a strategic battle with arch-rival India.
Some Pakistani officials also say privately that the ISI wouldn't be doing its job if it didn't have contacts with the Haqqani group, but that accusations of support for the group are a completely different matter and are false.
But Curtis says that if the Pakistani denials cannot be backed up within a few days, then the US should proceed with a set of harsh measures, including listing the Haqqani network on the US list of Foreign Terrorist Organizations, and then initiating an aggressive campaign of drone strikes against the group in its home turf of North Waziristan in Pakistan.
The US should also suspend all assistance to Pakistan, including civilian aid, she says. A similar idea is advancing in the US Congress: Last week a Senate committee voted to advance a measure to hold back $1 billion in US aid, conditional on the Pakistanis reversing course and launching an expanded crackdown on militants, including the Haqqani group.
Curtis also calls for reversing US withdrawal plans for Afghanistan. Such a move would be aimed at convincing the region, including Pakistan, that the US is committed to Afghan stability, she says, while signaling to the Taliban and groups like the Haqqani network that the US will not tolerate Afghanistan once again becoming a haven for terrorists.
But with the US and NATO committed to having all of their combat forces out of the country by 2014, that suggestion may be the least likely to occur.