Palestinian statehood: why Arabs have turned on Obama
A year ago, President Obama wowed the United Nations General Assembly by announcing that he looked forward to welcoming an independent Palestine into the community of nations in 12 months. Yet there he was last week, explaining why he would veto a Palestinian statehood bid in the UN Security Council.
Mr. Obama, who made Israeli-Palestinian peace a priority from the outset of his administration, is now the US leader with incongruously bad relations with the Arab world. Here are three key causes of the deterioration in relations – and three steps that the United States can take to mend ties.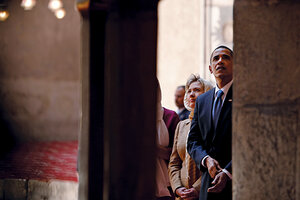 Gerald Herbert/AP/File
Rhetoric vs. reality

"There's a sense the US is not doing what it set out to do," says Jon Alterman, director of the Middle East program at the Center for Strategic and International Studies (CSIS) in Washington. "The president says he's going to do things, and those things don't happen."

The standout example of the gulf between rhetoric and reality is Obama's lofty speech in Cairo in June 2009 – in which he talked about a new beginning in US relations with the Arab and Muslim worlds, based on mutual respect and understanding.

But it's hardly the only example. On his second full day in office, Obama named former Sen. George Mitchell as his Mideast envoy, raising high hopes. But after scant progress, Mr. Mitchell resigned this past May.

Also playing a role, some say: a sense of US hesitation over what to do as Hosni Mubarak teetered in Egypt early this year.