Afghanistan attacks: Were signs of improved US-Pakistan ties just a mirage?
Despite optimism relations were rebounding, the attacks bore the signature of a Pakistan-based group, a reminder, as the US plans to exit Afghanistan, that Pakistan is at best a fickle partner.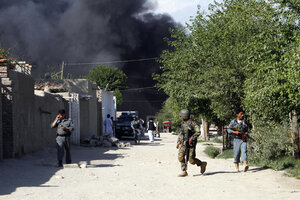 Rahmat Gul/AP
US officials voiced cautious optimism recently that relations with Pakistan, a critical but difficult partner, had survived a brush with a breaking point. One hope was that vital NATO supply lines through Pakistan into Afghanistan were about to be reopened.
But the weekend's coordinated insurgent attacks in Afghanistan, which US officials say bear the signature of a Pakistan-based militant organization that has for decades flourished under the protective wing of the Pakistani intelligence services, have raised new warning flags about Pakistan.
They serve as a reminder that the US – despite dispensing billions of dollars in military and civilian aid and receiving pledges of support in the battle with Islamist extremism – will have to factor in Pakistan as at best a fickle partner as it sets its course in a region that remains a threat to US national security.
"The attacks [in Afghanistan] show signs of involvement by groups benefiting from sanctuary" in Pakistan, "so certainly this is just another reminder of Pakistan's lack of action on its side of the border," says Lisa Curtis, a South Asia senior research fellow at the Heritage Foundation in Washington. "At the same time, this can't help but highlight the ongoing disagreements between the US and Pakistan."     
The US will have one eye on Pakistan as it decides two critical policy issues on Afghanistan, regional experts say. One is the pace of the drawdown of about 60,000 US combat forces that will remain in Afghanistan by this fall. The other is the size, makeup, and focus of the military presence the US will seek to keep in Afghanistan as part of a long-term strategic partnership agreement.
With Pakistan still providing safe haven to the Taliban and other militant groups that cross the border to carry out attacks in Afghanistan, the US will have to factor in the Pakistan threat as it decides how many troops and bases it hopes to keep in Afghanistan.
US officials say both privately, and to a lesser degree publicly, that they believe the Pakistan-based Haqqani network, long considered primarily a border contraband-smuggling mafia, was behind the weekend attacks in Kabul and three other Afghan cities. That is troubling for two reasons: the suggested evolution of the Haqqani network into a sophisticated fighting force and Taliban affiliate; and the fact that the Haqqani network has operated under the protection and encouragement of the Pakistani intelligence services since the 1980's.
Some US officials did seek to soften their claims about the Haqqani network by specifying that they did not believe the organization had masterminded the attacks from Pakistan. "Though the evidence leads us to believe that the Haqqani network was involved in this, it doesn't lead back into Pakistan at this time," Gen. Martin Dempsey, the chairman of the Joint Chiefs of Staff, said in comments to reporters in Washington Monday.         
But Ms. Curtis of Heritage says a certain soft-peddling of any accusations against Pakistan is to be expected, since the US is focused on getting relations with Pakistan back on track after last year's falling out (over the deadly attack on a Pakistani border outpost by US forces, and earlier the stealth raid into Pakistan territory that ended in the killing of Osama bin Laden). "We're unlikely to see any direct blaming of Pakistan [for attacks in Afghanistan] because the US is most interested in getting the supply routes back open," she says. "The priority right now is to get relations back on a functional level." 
Pakistan had been the route of choice for supplying US and NATO forces in Afghanistan, but the Pakistani government closed its borders to NATO shipments after the border outpost incident in November. Another so-called "northern route" has been opened up that passes through Eastern Europe and Central Asia, but US military officials say the new route is much costlier, with the cost per truck container now an estimated $17,000, compared to $7,000 per container shipped through Pakistan.
The Pakistani parliament recently agreed to a resetting of relations with the US that would allow a reopening of the border to NATO shipments, but some of the conditions the parliament calls for will never be accepted by the US.
One is an end to all drone strikes in Pakistan. With Pakistan refusing to take its own action against the border-region safe havens from which both Afghan and Pakistani militant groups operate, the US will refuse to give up what it says has been one of its most effective counter-terrorist tactics.
Still, US officials and some Pakistani officials say they expect differences to be resolved to allow the NATO supply routes to reopen.
One factor that some experts say may actually contribute to an easing of US-Pakistan tensions is the strategic partnership agreement the US is expected to conclude with Afghanistan in the coming weeks. The reasoning? If Pakistan is convinced that the US plans to remain a presence in the region, it will be less focused on its traditional interest in seeing Afghanistan remain unstable and unattractive to Pakistan's arch-rival India.
"A US strategic partnership agreement with Afghanistan will be a positive factor because it will send a good signal to both Pakistan and the Taliban that the US is here to stay and isn't about to abandon a vital national security interest," Curtis says.
Over all, she adds, "It will help reinforce the reality with Pakistan that its thinking on Afghanistan is wrong."