Top 3 reasons why Al Qaeda is more dangerous than ever
True, it may be the one-year anniversary of Osama bin Laden's death, but though US officials emphasize that the terrorist organization he led has been routed, defense analysts say that there are plenty of reasons to think that a resurgence of the perniciously resourceful Al Qaeda is not out of the question.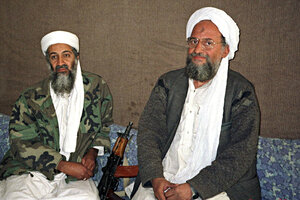 Hamid Mir/REUTERS/File
1.

Al Qaeda's new leader is good at what he does

When it was clear that Ayman al-Zawahiri would take the helm of Al Qaeda after the death of Mr. bin Laden, US officials reported that they were pleased – elated, some emphasized – about the choice. He was an irritable micromanager without the "peculiar charisma" of bin Laden, as defense officials described him. What's more, bin Laden was "more operationally engaged" than Mr. Zawahiri had ever shown any interest in being.

Robert Cardillo, deputy director for intelligence integration with the Office of the Director of National Intelligence, said this week that Zawahiri does not have the charisma to appeal to new recruits. Even his own fighters complain that he simply attached himself to a rising star within the organization and rode his coattails to the top, US intelligence officials add.

But that sort of mercenary approach can have practical advantages. In the internal debate about whether Al Qaeda should maintain a strict, ideological litmus test for members or bring as many fighters into the tent as possible, Zawahiri is a firm member of the later camp, which could ultimately translate into more followers, analysts note.

"He may not be bin Laden in his operational expertise, but the affiliates have all sworn allegiance to him," says Seth Jones, a senior political scientist at the RAND Corp. and author of "Hunting in the Shadows: The Pursuit of Al Qa'ida Since 9/11."

And though Zawahiri lacks the "suave" operating style bin Laden is universally acknowledged to have possessed, he was instrumental in the "mergers and acquisition strategy" to bring Al Shabaab, the Somali terrorist group, officially under the Al Qaeda affiliate umbrella in February, Mr. Jones notes.

Most important, "He has survived – and has been surviving for decades," he adds. "I think it's definitely an open question whether we're in danger of underestimating him.