Six reasons this UN General Assembly is must-see TV
Think the annual September gathering of world leaders at the United Nations is a big snooze? Think again. In the past, it has produced memorable, even explosive, moments: President George W. Bush telling the global assembly in 2002 it risked "irrelevance" if it didn't join him in confronting Iraq's Saddam Hussein, or Venezuela's Hugo Chávez, in 2006, likening the same Mr. Bush to the devil, or Libya's late Muammar Qaddafi demanding the UN move to Tripoli so he would not have to cross multiple time zones to attend meetings.
This year, the General Assembly debate convenes early Sept. 25 in a particularly somber mood. The Security Council is stuck in big power paralysis over the Syrian crisis to a degree unseen since the end of the cold war. Here are six key moments to watch for this time, led by a matchup of two presidential candidates from a major Security Council power. Guess which one?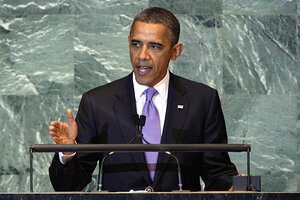 Richard Drew/AP/File
1.

Dueling Obama and Romney speeches

OK, so Republican presidential candidate Mitt Romney won't have his moment at the UN podium – at least not this year. But at just about the same time President Obama is addressing the General Assembly Tuesday morning, Mr. Romney will be speaking across Manhattan at the Clinton Global Initiative, former President Bill Clinton's international development forum.

Mr. Obama's star status at the UN was tarnished last year when, working through the Security Council, he opposed the Palestinians' bid for recognition. This year, expect Obama to laud Myanmar's emergence from authoritarian rule and to recognize the "work in progress" that are the countries of the Arab awakening. He's likely to remind Syria's embattled regime that its time is past, but a cautious president wanting no international surprises before November won't be calling for international intervention in Syria's civil war. Obama is also likely to remind the world that the window for resolving Iran's nuclear challenge peacefully is closing.

A question buzzing around diplomatic circles: Will Obama offer a second take of his 2009 Cairo speech and address the frustrations – showcased in recent anti-American violence – that threaten to split Muslim countries from the 21st-century world?