Benghazi investigation falters amid fear of militant reprisals
A four-month investigation is reportedly turning up links between Al Qaeda groups and the Sept. 11 attacks on the US diplomatic mission in Benghazi, Libya. But as Libyan investigators fall prey to harm, concerns rise that the probe may be derailed.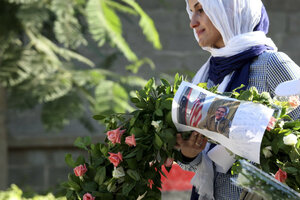 Mohammad Hannon/AP/File
The release in Tunisia Tuesday of a suspect in the Sept. 11 terrorist attack on the US diplomatic mission in Benghazi, Libya, is a reminder of the frustrations piling up for US officials as they try to bring to justice the perpetrators of an assault that resulted in the death of four Americans, including the US ambassador to Libya.
Four months after President Obama told the world from the White House Rose Garden to "make no mistake, justice will be done" in the Benghazi case, the investigation continues to hit hurdles like Tuesday's release in Tunis "for lack of evidence" of Ali Harzi, a Tunisian with links to North African militant Islamists who was at the Benghazi mission during the attack.
The accumulating setbacks range from intimidations – including kidnapping and killing – of Libyan law enforcement officials with any role in the investigation to a breakdown of judicial authority in eastern Libya and rising sympathies across the region with Islamist influence, if not Islamist militancy.
The latest blow to the Benghazi criminal investigation comes as some members of Congress vow to hold up action on President Obama's national security agenda until they get answers from the administration about the Benghazi attack – including why the US mission was so lightly protected in a region of Libya known to be falling under the influence of militias and militant Islamist groups.
Influential Republican Sen. Lindsey Graham of South Carolina said Tuesday he would push to hold up Mr. Obama's nomination of White House counterterrorism adviser John Brennan to head the CIA until the administration provides answers on Benghazi.
"I have not forgotten about the Benghazi debacle and still have many questions about what transpired before, during, and after the attack on our consulate," Senator Graham said on Fox News. "In that regard, I do not believe we should confirm anyone as director of the CIA until our questions are answered."
In November, Graham said he was "very disappointed in our intelligence community," which he said had "failed in many ways" in the lead-up to the Benghazi attack. Anyone looking at events in Benghazi in the weeks before September 2012 would see that "this was [an] Al Qaeda storm in the making," he said.
The existence in Benghazi of militant groups with Al Qaeda sympathies was already widely known at the time of the September attack. But an increasingly firm link of groups with Al Qaeda affiliation to the attack on the US mission – something some local Libyan officials have told local and Western journalists is emerging from the investigation – is also having a chilling effect on the inquiry, as fears grow of militant reprisals.
Earlier this month the head of criminal investigations in Benghazi was kidnapped as he waited at a traffic light, and in November the city's police chief was killed in a drive-by shooting. Last year more than a dozen police and other security officers were killed in Benghazi.
Also hampering the Benghazi investigation is Libya's record of poor administration even before the revolution that ousted leader Muammar Qaddafi. When Obama pledged to bring to justice the perpetrators of the attack that killed Ambassador Christopher Stevens and three other Americans, he said the US would  "work with the Libyan government to bring to justice the killers who attacked our people."
But, as some intelligence experts note, Libya would have been a hard place to advance such an investigation even without the added problems posed by a recent revolution and a growing Islamist militant presence.
"So much didn't work in Libya; even before the fall of Qaddafi it was one of the worst administered countries in the region if not the worst," says Wayne White, a former deputy director of the State Department's Bureau of Intelligence and Research who is now an adjunct scholar with the Middle East Institute.
"Then on top of that you have a civil war," and the loss of files and information and experience, as regime loyalists were replaced with new officials, he adds.
Given that Libya's government is so new and that the country remains "unsettled," no one should expect anything other than an investigation "proceeding in fits and starts," Mr. White says. But he acknowledges that the passage of time does not work to the benefit of those trying to "nail the bad guys."
Mr. Harzi, the Tunisian suspect just released by Tunisian authorities "for lack of evidence" against him, was actually detained in Istanbul with another Tunisian shortly after the Benghazi attack, and was reportedly on his way to Syria.
Harzi at first refused to be interviewed by visiting FBI investigators, but later submitted to questioning by American officials before he was released, according to his lawyer.
With eastern Libya and much of North Africa as "unsettled' as it is, it's difficult to know how many other suspects in or witnesses to the Benghazi attack are no longer in the area.