Hugo Chavez: 10 outrageous things he said about the US
Hugo Chavez, whose death was announced Tuesday, will be remembered worldwide as much for what he said as for what he did during his 14-year rule of Venezuela. Never shy of the international spotlight, the leftist ruler was known to make hours-long speeches and weekly TV broadcasts during which he decried capitalism and insulted his enemies.
From the vitriolic to just plain bizarre, here is a list of 10 outrageous comments he made about the "Yankee empire" and its leaders.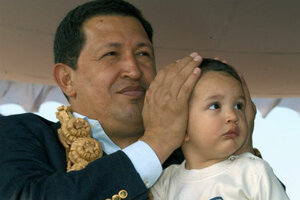 Gautam Singh/AP/File
1.

Trick or treat?

Mr. Chávez was no fan of "gringa" – or North American – customs, taking particular issue with Halloween.

During a weekly radio and TV broadcast in 2005, he compared the American holiday to "terrorism, putting fear into other nations, putting fear into their own people."

"Families go and begin to disguise their children as witches," he said. "This is contrary to our way. "