West eyes new Russian sanctions amid renewed fighting in eastern Ukraine
Secretary of State John Kerry's upcoming meeting with Russian Foreign Minister Sergei Lavrov could be a last chance to find some common ground before the Russian-Western estrangement widens further.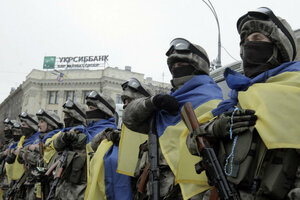 Stanislav Belousov/Reuters
As fighting once again rages in eastern Ukraine between government forces and Russian-backed separatists, charges and counter-charges between the principal geopolitical backers on each side are spiraling to new heights.
Yet even as the United States and European Union prepare another round of sanctions on Russia, and Russia warns of "catastrophe" if the West pursues its support of what it considers to be the aggressor government in Kiev, there are no signs of either side heeding the dire warnings of the other.
After President Obama and German Chancellor Angela Merkel agreed in a phone conversation earlier this week on the need to "hold Russia accountable" for stoking a return to violence in eastern Ukraine, the European Union (EU) moved Thursday to expand the list of mostly Russian individuals hit with sanctions over Ukraine.
EU foreign ministers also moved to prepare "further action" to pressure the sides to halt the fighting, signaling that EU leaders could adopt new sanctions against Russia when they hold a summit Feb. 12.
Such action could be the moment for the US to proceed with the additional sanctions it has been threatening against Russia, since the two Western powers have moved in tandem at each step of the gradual ratcheting-up of Western sanctions targeting Russia. This week Treasury Secretary Jack Lew said the US is ready to turn the sanctions screw if Mr. Obama issues the order. 
The ratcheting up of tensions occurred as the State Department announced Friday that Secretary of State John Kerry would visit the Ukrainian capital, Kiev, next week to "highlight the United States' steadfast support for Ukraine and its people."
Even Russian President Vladimir Putin acknowledges the impact Western sanctions are having on Russia's increasingly fragile economy. On Friday, the Russian Central Bank unexpectedly cut the interest rate, shocking markets and potentially causing more volatility for the ruble. But there are no signs the sanctions are succeeding with the intended objective of altering Russia's support for the separatists.
If anything, Mr. Putin is lionizing the separatists before the Russian public as a kind of defensive wall holding back a NATO reach into Russia's historical sphere of political and economic influence.
Reports from the conflict zone indicate the separatists are fighting with fresh supplies of heavy weaponry that could have only come from across the border in Russia.
Russia has a very different perspective on the conflict, however, labeling the Ukrainian forces fighting in the east as the aggressor.
This week Russia's envoy to Europe's post-cold-war security forum, the Organization for Security and Cooperation in Europe (OSCE), blasted the government in Kiev as "the party of war" and said Russia holds Western states, and the US in particular, responsible for "indulging" Ukraine and encouraging its belligerence.
Pursuit of that support risks causing "a big catastrophe," said Andre Kelin, Russia's OSCE envoy.
Mr. Kelin did not elaborate on what he meant, but Putin gave a hint earlier this week when he labeled the Ukrainian army a proxy unit of NATO forces – dispatched to Russia's western border to contain Russia.
Ukraine may be gripped by a civil war, Putin said in a televised interview, but the Ukrainian army is acting as a "foreign NATO legion which doesn't pursue the national interests of Ukraine, but wants to restrain Russia."
A slim glimmer of hope for some break in the standoff between the West and Russia over Ukraine came Friday afternoon when the State Department announced that Secretary Kerry would meet next week with Russian Foreign Minister Sergei Lavrov.
Kerry will meet Mr. Lavrov on the sidelines of a security conference in Munich next weekend after Kerry's visit to Kiev, State Department spokeswoman Jennifer Psaki said.
Meetings between the two top diplomats have failed to deliver a retreat from tensions in the past. But next week's face-to-face could be a last chance to find some common ground before another round of Western sanctions is ordered – and before the Russian-Western estrangement widens even further.