As Syrian civil war enters fifth year, especially hard challenges for children
About 14 million children in Syria and Iraq – more than the populations of Washington State and Massachusetts combined – are experiencing significant hardship, according to a new UNICEF statement.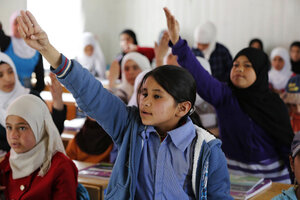 Muhammad Hamed/Reuters
The children of Syria, and now increasingly Iraq, can't seem to catch a break.
In Syria, thousands of children have succumbed to the ravages of the country's civil war – many of them the victims of the barrel bombs dropped indiscriminately by the regime of President Bashar al-Assad.
Hundreds of thousands of Syrian and Iraqi children have been displaced, along with their families, and now live in camps in unfamiliar places – Lebanon, Jordan, Turkey, and Egypt. For many, schooling is an opportunity of the past, leaving as the only options menial labor and, for growing numbers of girls, childhood marriage.
For many who do stay put, schooling now means an education in the ideology of the self-described Islamic State (IS), with lessons in intolerance of non-Muslims and even hatred for most Muslims.
The chilling product of that inculcation was on sad display earlier this week in an IS video purporting to show a young boy shooting dead at point-blank range an Arab-Israeli youth whom IS claimed was a spy.
All in all, about 14 million children – more than the populations of Washington State and Massachusetts combined – are living every day with extreme violence, the hardships of displacement, and the mental aggression of extremist ideology, according to UNICEF, the United Nations agency charged with promoting the welfare of the world's children.
The UNICEF statement joins a long list of reports and cries of alarm from humanitarian officials and international children's rights groups marking the fourth anniversary of the Syrian civil war, which began in March 2011.
The war began with attacks by the Assad regime on opposition groups that were mobilizing. Then, IS launched from its stronghold in northern Syria to seize large swaths of Sunni Muslim-populated Iraq, expanding the conflict into a regional war with Islamist extremism.
The anniversary is a grim one, with international humanitarian and human rights agencies having long ago declared the Syrian war in such gloomy terms as the world's worst humanitarian crisis in decades, and as threatening nothing less than the loss of an entire generation of Syrians.
"We have expressed our horror, our outrage, our frustration as we have watched the tragedy unfold," the heads of eight international agencies and special UN envoys said in a joint statement issued Friday.
"We ask 'what does it take' to end this crisis?" read the statement, whose signatories included the UN undersecretary-general for humanitarian affairs, Valerie Amos; High Commissioner for Refugees Antonio Guterres; and UNICEF executive director Anthony Lake. "The future of a generation is at stake. The credibility of the international community is at stake."
That sense of deep failure by world powers and the international community has carried across many of the statements marking the Syrian anniversary.
On Thursday, a group of more than 20 international aid agencies involved in Syria and Iraq blasted the UN Security Council for failing to implement three Council resolutions that were approved last year – and were hailed at the time as breakthroughs for improving the lot of Syrian civilians.
The resolutions called for opening humanitarian corridors inside Syria to reach civilians and other measures to protect civilians and end indiscriminate attacks. "[T]he demands within these resolutions remain little more than words," the aid groups said in issuing a report on conditions in Syria.
The number of children affected by the conflict and needing assistance jumped by more than a third over the previous year, the groups said, even as funding for international aid agencies has fallen.
UN Secretary-General Ban Ki-moon echoed the aid groups Thursday by calling for renewed international attention to the Syrian conflict – not just to address the conditions brought on by the war, but to bring it to an end.
"Humanitarian assistance can only alleviate Syria's suffering, not stop the war," Mr. Ban said. "For this, a political solution to this senseless conflict is necessary."
But with regional and international powers including the United States more focused for the moment on "degrading and ultimately destroying" IS, there appears to be little energy for the kind of tough and sustained diplomatic effort it would take to attempt to find a "political solution" to the Syrian war.
With no end in sight to the fighting, the ranks of the 14 million children affected by conflict in Syria and Iraq will only grow, UNICEF says.
Repeating the prospect of a "generation of young people ... lost to a cycle of violence," Mr. Lake of UNICEF went further in a separate statement to issue what sounded like a veiled warning to world leaders on the potential long-term impact of Syria's war.
"[V]iolence and suffering have not only scarred [these children's] past," he said. "[T]hey are shaping their futures."