Supreme Court hears arguments in Florida beach property case
Florida took up a seven-mile-long beach restoration project, and some beach property owners say it violates their rights. On Wednesday, a lawyer for waterfront landowners encountered both skepticism and support at the Supreme Court.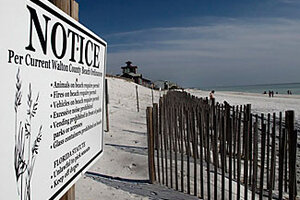 Melissa Nelson/AP
A lawyer for waterfront landowners encountered both skepticism and support at the US Supreme Court on Wednesday while urging the justices to wade into a long-running dispute over the effect of erosion-control efforts on seaside property rights in Florida.
At issue in the hour-long oral argument was whether a ruling by the Florida Supreme Court had so significantly changed the substance of Florida property law as to amount to a public taking of private property without payment of just compensation.
Tallahassee lawyer D. Kent Safriet told the justices that Florida's highest court "redefined" the essence of littoral property rights in the state. The court, he said, ruled for the first time that owners of waterfront property enjoy no constitutionally protected right to have their waterfront property actually be in contact with water.
The Florida Supreme Court determined that the essential right for waterfront property owners was access to the water, not physical contact with it, explained Florida Solicitor General Scott Makar.
The position prompted a response from Justice Antonin Scalia. "It would be very strange to have a principle that all a littoral owner gets is a right to access the water, not a right to be on the water," he said.
The US Supreme Court has never recognized a so-called judicial taking of private property. But the court has ruled that when the legislative or executive branch of government engages in such a taking, the Constitution's Fifth Amendment requires payment of fair compensation to the landowner.
The question in the Florida case arose during a 2003 state project aimed at pumping thousands of tons of new sand onto an eroded beach on Florida's Panhandle. Under a beach-restoration law, officials announced, the new sand would become state-owned land.
While some beachfront property owners hard hit by storms welcomed the restoration project, others opposed it, saying they were well protected behind an existing 200-foot-wide beach.
Rather than focus on the most eroded sections, the state designated nearly seven miles of beach for more sand – including the beaches of some objecting owners.
This is a good deal for property owners, Justice Stephen Breyer suggested. Seaside landowners retain their view of the Gulf of Mexico, they are guaranteed access to the beach and sea, and they have a state-constructed buffer protecting them from future hurricanes.
"All you lost was the right [for your property] to touch the water," he told Mr. Safriet.
Under the prior common-law regime, the lawyer responded, seaside property was linked to the high-tide mark. As a result of the state's beach restoration project, the property line became fixed at an inland location.
Chief Justice John Roberts seemed particularly sympathetic to Safriet's argument. "If somebody put up a hot-dog stand on this new land, would you have the right to tell them they can't?" he asked.
"Absolutely not," Safriet said.
Justice Scalia added that people pay a lot more for beachfront homes.
"The value of beachfront property is a premium," Safriet agreed. What property owners want, he added, is to have their day in court to prove how the Florida Supreme Court's ruling devalued their land – and then for the state to pay fair compensation.
The state action offered property owners a number of benefits, including ongoing erosion control, Scalia noted. "So, who knows, maybe that's sufficient compensation," he said.
Solicitor General Makar told the justices that the Florida high court's ruling was not a taking of property. Waterfront property owners in Florida have no constitutionally protected right to have the tides lap upon their lands, he said. Instead, the key right is access to the water.
"It is very beneficial," he said of the state project and associated statutory guarantees. "This is basically a beachfront property protection act."
Justice John Paul Stevens was not present at the argument on Wednesday. It was not clear whether he has recused himself from the case or whether he was absent for another reason.
-----
Follow us on Twitter.