Strauss-Kahn and five other vexing sexual assault cases
Sexual assault cases rank among the most difficult to prosecute, as the one against ex-IMF chief Dominique Strauss-Kahn is demonstrating. Held under house arrest since being charged with sexual assault of a maid at a New York hotel, the French politician was released on his own recognizance Friday amid questions about his accuser's credibility.
The "he said, she said" nature of such cases is one complicating factor (as is getting victims to report sexual assaults in the first place). But so are prosecutorial zeal, power politics, personal troubles of accusers, and even false accusation. Here are five high-profile sex-crime cases that fell apart, in which one or more of those factors played a role.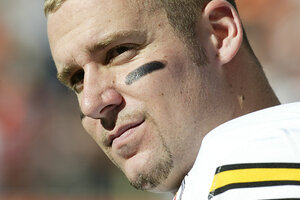 Icon Sports Media/Newscom
1.

NFL quarterback Ben Roethlisberger case

Pittsburgh Steelers quarterback Ben Roethlisberger's reputation as an off-season party boy darkened last summer when a woman claimed the two-time Super Bowl champ had raped her in a bathroom stall at a nightclub in Milledgeville, Ga., during a night of raucous drinking.

Roethlisberger, who had fended off another rape accusation by a Las Vegas casino employee in 2009, maintained that he had done nothing wrong. Local prosecutors agreed.

The district attorney cited the accuser's varying accounts and the lack of conclusive physical evidence as reasons Roethlisberger was not charged. The alleged victim continued to insist that a rape did occur.

The case raised troubling questions about at least one officer's actions that night. Milledgeville Sgt. Jerry Blash resigned under pressure for making derogatory comments about the woman to Roethlisberger less than an hour after she had reported being assaulted.

"In a March 15 interview with FBI Special Agent Ryan Carmichael," writes the Atlanta Journal-Constitution, "Blash indicated that he was mad because the alleged victim was not being 'straight up' with him. The former sergeant said the victim was very 'nonchalant' about her allegations."

Roethlisberger did not emerge unscathed, however. The NFL suspended him for six games in 2010.