George Zimmerman bond hearing: 5 new things we learned
Seminole County Judge Kenneth Lester on Friday allowed George Zimmerman to post a $150,000 bond to go free as he awaits trial on a second degree murder charge for his role in the shooting death of unarmed teenager Trayvon Martin in Sanford, Fla., on Feb. 26. The bond is expected to be posted in several days.
Normally routine, the hearing turned into a mini-trial when defense attorney Mark O'Mara challenged prosecutors' probable-cause affidavit – the document in which prosecutors made their case for arresting Mr. Zimmerman. One of the lead investigators and even Zimmerman himself took the stand. Here are five things we learned.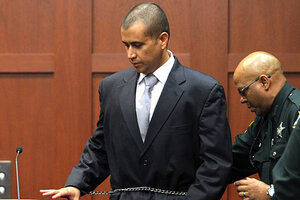 Gary W. Green/Orlando Sentinel/AP
1.

Zimmerman brooded over comments by Trayvon's mother

No turn in the hearing was more unusual than when Zimmerman took the stand himself to make his first public statement on the case, giving the first glimpse into his frame of mind.

Mr. O'Mara conceded that allowing Zimmerman to take the stand at the bond hearing "was very risky," but said Zimmerman wanted specifically to address several questions raised by Sybrina Fulton, Trayvon's mom, in an interview last week, where she asked why he shot an unarmed teenager.

Zimmerman said he thought Trayvon was an adult, "a little bit younger than I am," and that he didn't know if Trayvon was armed or not. Zimmerman ended by saying, "I'm sorry for the loss of your son."

O'Mara noted that Zimmerman "didn't want to defend himself, didn't want to talk about the facts, but he had heard a request from the family, and that's precisely what he wanted to address."

After the hearing, an attorney for Trayvon's family called the apology "disingenuous."