Major gay marriage cases in federal court and where they stand
Battles over same-sex marriage have been raging in the federal courts for several years. Two general areas of litigation could reach the US Supreme Court within a year. One is a challenge to California's ban on same-sex marriages under Proposition 8. The other seeks to invalidate the federal Defense of Marriage Act (DOMA), which limits the provision of 1,100 federal benefits to married heterosexual couples. Here is a list of key cases and where they stand.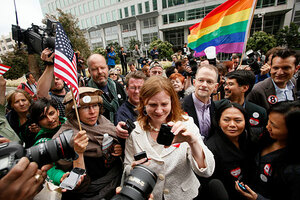 Eric Risberg/AP/File
1.

The challenge to Prop. 8

(Updated June 5, 2012)

A federal judge and a federal appeals court have invalidated California's statewide referendum that banned same-sex marriages.

Supporters of the referendum and ban had asked the full Ninth US Circuit Court of Appeals to rehear the case, Perry v. Brown (Case No.11-16577), but the court on June 5 declined to do so.

An appeal directly to the US Supreme Court is expected.