Jared Lee Loughner and 6 other mass shooters: How the cases were resolved
Jared Lee Loughner was found competent Tuesday to stand trial and pleaded guilty to 19 counts, including murder and attempted murder, for the January 2011 shooting in Tucson in which six people were killed and 13 wounded – including then-Rep. Gabrielle Giffords (D) of Arizona – at a Giffords event at a supermarket.
Mark Kelly, Ms. Giffords's husband, said Tuesday that he and his wife support the plea. "The pain and loss caused by the events of Jan. 8, 2011, are incalculable," Mr. Kelly wrote. "Avoiding a trial will allow us – and we hope the whole Southern Arizona community – to continue with our recovery and move forward with our lives."
Accepting a guilty plea in exchange for a life sentence is not unusual in a case like this – although, when it comes to mass shootings in the US, perhaps the most anomalous aspect of the case is that Loughner was captured alive. In instances where the perpetrator was not killed during the rampage, here's how other cases of mass shootings have been resolved: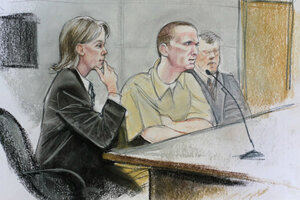 Maggie Keane/Reuters
1.

California State University, Fullerton, shooting

On July 12, 1976, Edward Charles Allaway shot and killed seven people and wounded two more in the university library. He worked as a janitor there.

Mr. Allaway faced trial, where he was found guilty of murder. But a judge determined him not guilty by reason of insanity, and he was committed to a mental institution.

In 2001, his doctors said that his paranoid schizophrenia was in remission, and recommended his release, but a judge ruled that he still posed a danger to society and should not be released.