Voter ID law backed by Republicans faces legal test in Pennsylvania
Pennsylvania Supreme Court justices on Thursday will examine the state's voter ID law, which was touted by a top state Republican as allowing Mitt Romney 'to win the state.'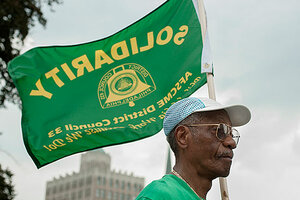 John C. Whitehead/The Patriot-News/AP/File
Pennsylvania's new voter ID law comes under close examination Thursday at the state's Supreme Court, where the justices must decide whether a lower court judge acted properly by allowing the controversial measure to take full effect for the November elections.
The voter ID issue has become a flashpoint in a series of legal battles being waged in state and federal courts across the country in what could be swing states in the presidential election.
Opponents of Pennsylvania's voter ID law argue that it will potentially disenfranchise hundreds of thousands of poor and elderly voters who lack the necessary government-issued photo identification.

Test Your Knowledge
Could you pass a US citizenship test? Find out.
Supporters say the ID requirement is designed to help deter voter fraud and bolster confidence in the election process. It is no more onerous than having to show ID to board an airplane or cash a check, they say.
The case is further clouded by comments reportedly made by Pennsylvania House Majority Leader Mike Turzai, a Republican, that the new ID law is "gonna allow Governor Romney to win the state of Pennsylvania."
Democrats cite the comment as proof that the Republican-backed measure is a partisan attempt to suppress the votes of residents likely to cast ballots for President Obama and other Democrats.
Pennsylvania is one of several states where Republican-controlled legislatures adopted voter ID laws after the US Supreme Court upheld the constitutionality of a similar Indiana ID law in 2008.
According to polls, most Americans support the idea of requiring voters to present a government-issued photo ID before casting a ballot. A Washington Post poll in July found that 74 percent of US voters agreed with the voter ID requirement. Twenty-three percent objected.
In April, Rasmussen Reports found that 70 percent of likely US voters approved of the photo ID requirement, while 22 percent were opposed.
Nonetheless, not all ID laws have fared well. Two state judges have blocked a voter ID law in Wisconsin, and the Justice Department sued to block ID requirements in South Carolina and Texas.
A three-judge federal panel ruled two weeks ago that the Texas voter ID statute discriminated against prospective voters who are elderly and low-income. That decision is being appealed. The South Carolina challenge is set to be argued before a three-judge panel in Washington later this month.
The Justice Department is also considering whether to file its own challenge to the Pennsylvania law.
The voter ID issue is one of several legal disputes swirling around the approaching presidential election. With the contest expected to be tight to the end, lawyers are poised to challenge any provision that might have an impact on who wins.
Oral argument in the Pennsylvania ID case is set to be heard Thursday morning in Philadelphia by six of the Pennsylvania high court's seven justices. The politically sensitive case could test the ideological balance of the court, which is comprised of three Democrats and four Republicans.
One of the Republicans, Justice Joan Orie Melvin, has been suspended since May after being charged in a seven-count indictment alleging that she used her state-paid staff to help run her election campaign.
Some analysts suggest the suspension of the Republican justice sets the stage for a potential 3-3 tie, with the court split along partisan lines. A tie vote would permit the lower court's ruling to stand.
It will take the votes of at least four justices to overturn the earlier decision and block the ID law prior to the election.
Opponents of the law argue that there is no evidence of widespread election fraud. They say given the lack of a credible threat to the voting process, there is no justification to enact a measure that may prevent a large number of residents from voting.
One expert estimated that over 1 million registered voters in Pennsylvania do not possess the proper photo ID. He also estimated that an additional 1.3 million eligible voters lack proper ID.
"Voting is a fundamental right. The challenged law imposes significant burdens on the exercise of that right," David Gersch wrote in his brief urging the justices to reverse the lower court and block the new law.
Mr. Gersch said the Pennsylvania constitution is more protective of the right to vote than the US Constitution, but that the lower court judge failed to apply that higher standard.
Lawyers for the commonwealth disagree. They say the ID law is an acceptable regulation of election procedures and is well within the realm of state lawmakers.
"The statute does not disenfranchise any class of voters, it merely tightens the voter identification requirements applicable to all voters," Alfred Putnam wrote in his brief on behalf of Republican Gov. Thomas Corbett and Commonwealth Secretary Carol Aichele.
Commonwealth lawyers say that nothing prevents any Pennsylvania voter from casting a ballot. All voters are entitled to obtain a free ID and use it to vote, cast a provisional ballot on Election Day, or vote absentee.
No one will be denied a chance to vote, they say.
The debate boils down to a clash between competing visions of how best to protect the right to vote – by requiring ID at the polls or by making it as easy as possible for prospective voters to cast their ballots.
"At the end of the day, the question the appellants want this court to answer is: which policy is better?" Mr. Putnam wrote.
"This court has held on numerous occasions, however, that that question is one for the General Assembly, not the courts," he said.
One important consideration may be how difficult – or easy – it is for low income and elderly residents to obtain free IDs being offered by the commonwealth in advance of the election.
In mid-August, one day after the commonwealth judge refused to block the Pennsylvania law, the lead plaintiff in the case, 93-year-old Viviette Applewhite, decided to try, once again, to obtain a free ID.
She boarded two public buses and eventually made her way to the state office. Ms. Applewhite told reporters she had been repeatedly denied an ID for years because she did not have a copy of her birth certificate and other required documents.
This time, however, the clerk accepted the documents she was able to produce – a Medicare card and a state-issued document showing her name. She also provided her social security number.
After a bit of detective work, the Commonwealth of Pennsylvania issued Ms. Applewhite a free voter ID card.
Mission accomplished for Applewhite. But a larger question looms. What happens to the estimated hundreds of thousands of prospective voters who still lack the necessary ID?