Transocean agrees to pay $1.4 billion fine for Gulf oil spill
Transocean was a contractor to BP and owned the Deepwater Horizon drilling rig that was at the center of the Gulf oil spill. BP has already agreed to $4.5 billion in fines.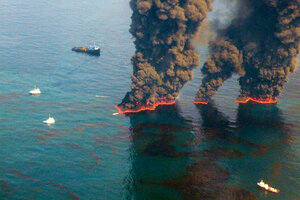 Chief Petty Officer John Kepsimelis/U.S. Coast Guard/REUTERS/File
An offshore drilling company agreed to plead guilty on Thursday to a single Clean Water Act charge and pay $1.4 billion in fines for its role in the April 2010 BP Deepwater Horizon oil spill in the Gulf of Mexico.
The company, Transocean Deepwater Inc. signed a plea and cooperation agreement with the Justice Department that includes payment of both civil and criminal penalties.
The company admitted that members of its crew aboard its Deepwater Horizon rig were negligent in failing to investigate indications that the offshore well was not secure, according a government statement. It noted that Transocean crew members were acting at the direction of BP officials in charge of the drilling operation.
The company is agreeing to cooperate with the Justice Department in its continuing investigation of a disaster that killed 11 rig workers and caused the largest offshore oil spill in US history.
Transocean was a contractor to BP and provided the deep water rig for the drilling operation. BP has agreed to pay $4.5 billion in fines and has pleaded guilty to manslaughter charges related to the 11 deaths.
In November, federal prosecutors indicted two BP drilling supervisors on manslaughter charges for allegedly disregarding indications that the offshore well was about to fail.
"This resolution of criminal allegations and civil claims against Transocean brings us one significant step closer to justice for the human, environmental, and economic devastation wrought by the Deepwater Horizon disaster," Attorney General Eric Holder said in a statement.
"This agreement holds Transocean criminally accountable for its conduct and provides nearly a billion dollars in criminal and civil penalties for the benefit of the Gulf states," he said.
The plea agreement is subject to the approval of US District Judge Carl Barbier in New Orleans. It is pending a 21-day period for the Justice Department to receive public comments on the proposed agreement.
The arrangement requires Transocean to pay $400 million in criminal fines and an additional $1 billion in Clean Water Act civil penalties accrued during the three months it took to cap the well.
The company is also required to implement improved operational safety and emergency response procedures at all the company's drilling rigs in US waters.
"The development and exploration of a domestic source of energy is vitally important, and it can and must be done in a responsible and sound manner," Ignacia Moreno, assistant attorney general for environment and natural resources, said in a statement.
"This unprecedented settlement under the Clean Water Act demonstrates that companies will be held fully accountable for their conduct and share responsibility for compliance with the laws that protect the public and the environment from harm," Ms. Moreno said.
Under a proposal presented to Judge Barbier, the government seeks to direct $150 million of the $400 million criminal fine to restoring and preserving the marine and coastal environment in the Gulf region.
An additional $150 million will be directed toward research and training aimed at improving oil spill prevention and emergency response efforts in the Gulf.
The $1 billion in civil payments under the Clean Water Act establishes a new record. Last year, MOEX Offshore, a 10 percent partner with BP in the offshore well, agreed to pay a $70 million civil penalty.
Under a 2012 law, some 80 percent of the $1 billion payment must be used to fund projects to preserve the Gulf environment and boost the region's economic prospects.
Officials said the government's criminal investigation of the 2010 oil spill is ongoing. In addition, civil litigation against BP and other companies is continuing, they said.