'Stop and frisk': 7 questions about New York's controversial policing tactic
New York Mayor Bill de Blasio was elected in a landslide in November 2013, primarily because he was the only outspoken opponent of the New York Police Department's controversial "stop and frisk" program.
During the campaign, a federal judge ruled the NYPD's version of the policing tactic to be unconstitutional, illegally targeting minorities and crossing the line into illegal searches.
Since then, William Bratton, a pioneer of the tactic, has returned for a second act as New York's police commissioner, revising the "stop and frisk" policies of America's largest police force and reducing its use dramatically.
But what is stop-and-frisk and does it work?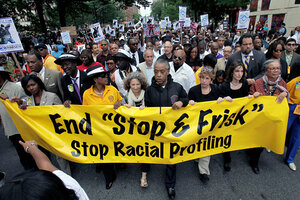 Seth Wenig/AP/File
1.

What is 'stop and frisk'?

Adopted in the mid-1990s during Police Commissioner William Bratton's first tenure with the NYPD, stop and frisk is a tactic used by law enforcement to monitor urban environments and reduce crime. If a police officer reasonably suspects a person is about to commit, is committing, or has committed a crime, the practice enables the officer to stop, question, and if needed, frisk the person for weapons.