Danziger Bridge retrial takes New Orleans back to Katrina chaos
Prosecutorial misconduct cost New Orleans convictions in a case where police officers were accused of firing on unarmed storm victims and then charging a man with murder in a coverup.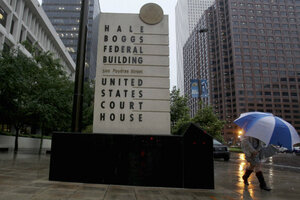 Sean Gardner/Reuters/File
Citing "grotesque" prosecutorial misconduct, an irate federal judge this week overturned the 2011 convictions of five New Orleans ex-cops found guilty of shooting and killing unarmed storm survivors on the city's Danziger Bridge after hurricane Katrina struck the Crescent City in late August 2005.
The trial and convictions of the five ex-cops, at the time, was widely seen as a catharsis for a city in recovery, a smidgen of redemption for a struggling historic port town forced to deal with a long history of civil rights complaints and police misconduct.
 Now, because of new evidence that a team of federal prosecutors thought it wise to comment about the case anonymously on Internet boards, the chaos and tragedy of what happened on Danziger Bridge in that city's epochal storm will be reopened.
After revelations surfaced last fall that some of the same attorneys in the Danziger Bridge case had been posting comments related to other big prosecutions, experts hired by the defense compared writing styles, word usage, and other forensic linguistics to unmask the prosecutors.
The defense attorneys filed motions to the court last year to overturn the Danziger Bridge convictions. At first, the judge made statements that he'd be loath to overturn the convictions, but he changed his mind.
According to a survey by the Center for Prosecutor Integrity, 43 percent of Americans believe prosecutorial misconduct is widespread in the US. In his order, Judge Kurt Engelhardt suggested that the overturned verdicts reflected on prosecutorial behavior beyond New Orleans.
"The government's actions, and initial lack of candor and credibility thereafter, is like scar tissue that will long evidence infidelity to the principles of ethics, professionalism and basic fairness and common sense necessary to every criminal prosecutor, wherever it should occur in this country," Judge Engelhardt wrote in granting the convicted ex-cops a new trial. "This is indeed a bitter pill to swallow."
Five former NOPD officers – Kenneth Bowen, Robert Gisevius, Robert Faulcon, Arthur Kaufman, and Anthony Vallavaso – were convicted by a New Orleans jury in 2011 for their roles in the shooting deaths of unarmed civilians on the bridge on Sept. 4, 2005, or for participating in the coverup. Two men were killed, and investigators later disproved allegations that one of the men apprehended at the scene was armed and shooting at police.  
After receiving a call about people firing on police on the bridge, which spans the city's industrial canal, a team of police officers packed into a rental truck and forded the city floods. The scene at the bridge, where victims were riding out the storm's aftermath, was chaotic. At one point, officers opened heavy fire on several people, shooting one man in the back.
The case against the officers directly addressed deep problems in the New Orleans Police Department, but also became perhaps the most vivid reminder of the apocalyptic aftermath of the Category 4 hurricane that killed more than 1,000 people and left a huge swath of New Orleans flooded for weeks.
But while the US attorney's office in New Orleans was building the case against the police officers, in large part based on testimony from other officers who pleaded to lesser sentences, at least three prosecutors, Sal Perricone, Karla Dobinski and Jan Mann, began often posting scathing, anonymous, comments on local newspaper comment boards.
The judge confirmed in his order that US attorney Jim Letten, who has since left his New Orleans post, knew about the postings, though he had previously denied knowing what his prosecutors were doing.
Mr. Perricone, for example, was unmasked last year as "legacyusa," a commenter who wrote on the eve of jury selection in the Danziger Bridge case that, "NONE of these guys should … have ever been given a badge.…  You put crap in – you get crap out!!!"
Engelhardt reveals in his order that not only did prosecutors lie to him about their misconduct, but tried themselves to downplay, even cover up, the nature of their misdeeds. The case began to blow up last year when attorneys for the convicted cops presented evidence that federal prosecutors had been conducting a "secret public relations campaign" on the Internet against the New Orleans Police Department in order to sway the trial.
The US attorney's office in New Orleans had no direct comment about the judge's order. It's not clear if any of the prosecutors will face legal or professional sanctions.
Engelhardt's report is "one of the most hard-hitting condemnations of the Justice Department … that I've ever seen," Pace University professor Bennett Gershman told the New Orleans Times-Picayune. He called the ruling a "powerful exposé of sleaziness, dishonesty and misconduct."
Families of Danziger Bridge victims reacted to the order with dismay.
"It has been over eight years since our brother Ronald was shot and killed on the Danziger Bridge and our brother Lance was falsely arrested and framed on eight counts of murder," the family said in a statement. "This decision reopens this terrible wound not only for our family, but our entire community."