Strict N.J. rule on gun permits stands, as Supreme Court refuses case
The US Supreme Court declined Monday to take a case about a New Jersey law requiring residents to show a 'justifiable need' to carry a gun in public. The law's critics had hoped the high court would take the case – and rule to expand gun rights.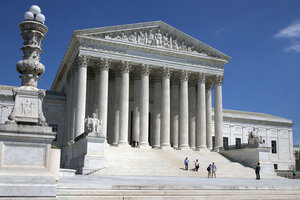 Jacquelyn Martin/AP/File
The US Supreme Court on Monday declined to take up a case that many analysts believed might have delivered another landmark Second Amendment decision expanding gun rights in the United States.
The court took the action in a one-line order without further comment. It affirms lower court decisions upholding a New Jersey gun permit statute that critics say is too restrictive.
The question in the case was whether the New Jersey gun regulation violated a fundamental right to carry a firearm in public for self-defense.
The issue arrived at the high court at a time of heightened public concern about the prevalence of guns in US society and a seeming stream of mass shootings at schools, job sites, and other public places.
The challenged New Jersey statute prohibits state residents from obtaining a permit to carry a handgun in public unless they can demonstrate a "justifiable need" for such a weapon.
The law defines justifiable need as "the urgent necessity for self-protection, as evidenced by specific threats or previous attacks which demonstrate a special danger to the applicant's life that cannot be avoided by means other than by issuance of a permit to carry a handgun."
Under the New Jersey law, an application must be submitted to the local police chief. If the chief approves the application, it is then forwarded to a state judge, who also must approve the application.
An approved permit is good for two years. Carrying a gun without a permit is a felony in New Jersey, punishable by five to 10 years in prison.
New Jersey issues roughly 600 permits per year in a state with an adult population of more than 6.7 million, an approval rate that those challenging the law said is microscopically low.
Gun rights advocates filed their lawsuit in 2010, asking a federal judge to declare the New Jersey statute unconstitutional. The judge upheld the law, and an appeals court panel voted 2 to 1 to affirm that decision.
In their petition urging the Supreme Court to take up the case, gun rights advocates said New Jersey's strict regulations and tough permit requirements violate a fundamental right under the Second Amendment to carry a gun in public for self-defense. They said that fundamental right extends to all Americans regardless of their ability to convince a government official that they face an imminent threat of harm justifying the need for a gun.
The state of New Jersey and gun control supporters disagree. They view the presence of lawfully held guns in public as a threat to public safety that government can control without offending the Second Amendment.
The New Jersey lawsuit was filed by four New Jersey residents and two groups, the Second Amendment Foundation and the Association of New Jersey Rifle and Pistol Clubs.
One of the litigants, John Drake, runs a business that services and restocks bank ATM machines. The work requires that he carry and handle large amounts of cash. His application for a gun permit was denied because he failed to demonstrate a "justifiable need" for a firearm.
Another litigant, Finley Fenton, is a reserve sheriff's deputy who wanted to carry a firearm while off duty for protection from criminals with whom he interacts while on duty. His application was denied for failure to demonstrate a "justifiable need."
In dismissing their lawsuit, the federal judge declared that there is no Second Amendment right to carry a handgun outside the home.
A divided panel of the Philiadelphia-based Third US Circuit Court of Appeals agreed.
"It remains unsettled whether the individual right to bear arms for the purpose of self-defense extends beyond the home," the appeals court said. The majority acknowledged that a prior US Supreme Court decision might have implied such a right, but the Third Circuit majority declined to embrace that implication.
In his petition urging the high court to take up the case, appellate lawyer Alan Gura said the Third Circuit's restrictive view on the right to bear arms outside the home for self-defense is in conflict with decisions from five other federal appeals courts and four state supreme courts.
The Second, Fourth, Fifth, Ninth, and Seventh Circuits and the supreme courts of Illinois, Idaho, Oregon, and Georgia have held or assumed that the Second Amendment includes a right to carry a handgun outside the home for self defense, Mr. Gura said.
He added that the highest courts in Maryland, Massachusetts, and the District of Columbia had embraced the more restrictive view upheld by the Third Circuit in the New Jersey case.
"No serious person believes that people in New Jersey today enjoy their right to 'bear arms' – defined by this court as 'carrying [arms] for a particular purpose – confrontation,' " Gura wrote in his brief.
"Even the [Third Circuit] majority below found that New Jersey's 'justifiable need' requirement is incompatible with a right to carry defensive handguns," he said. "It thus held – exactly backwards – that the requirement's adoption defeats an understanding that the Second Amendment secures that right."
New Jersey officials defend their statutory requirement of showing a "justifiable need" to obtain a permit. In urging the court not to take up the case, they argued that the federal judge's opinion and the supporting Third Circuit decision do not conflict with prior Second Amendment precedents of the Supreme Court.
Mary Beth Wood, New Jersey senior deputy attorney general, said in her brief that the Third Circuit ruled correctly that New Jersey's restrictive handgun permit regulation was the type of longstanding prohibition on the possession of firearms that the Supreme Court has declared are "presumptively lawful."
Rather than violating the Second Amendment, she said, such longstanding regulations are exempt from the constitutional right.
The case was Drake v. Jerejian (13-827).