US Supreme Court stays execution of Missouri inmate
Russell Bucklaw, convicted of murder and rape, was granted a stay of execution late Wednesday by the US Supreme Court. His lawyers plan to argue before an appellate court that a rare health condition should exempt Bucklaw from the death penalty.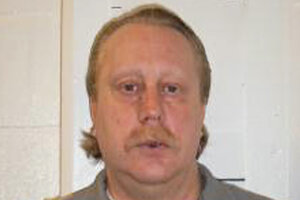 Missouri Department of Corrections/AP/File
The US Supreme Court granted a stay of execution Wednesday night to a condemned Missouri man diagnosed with a rare congenital condition that his lawyers say could cause him to experience pain during execution, in violation of the Eight Amendment.
The high court did not give a reason for its action, and it sent the case back to the Eighth US Circuit Court of Appeals, where lawyers for Missouri death-row inmate Russell Bucklew plan to argue that Mr. Bucklew's health condition could cause him suffering in excess of that allowed under the Constitution. 
"Today's stay of execution will give the lower federal courts time to consider Mr. Bucklew's claim that his execution would violate his rights under the Eighth Amendment to be free from cruel and unusual punishment," said Cheryl Pilate, one of Bucklew's lawyers, in an e-mailed statement.
Bucklew was convicted in 1997 of raping and kidnapping his ex-girlfriend, as well as killing the man with whom she was living. On the day of his capture, he also shot at a police officer and at one of the man's children, and he later escaped from jail and beat up his ex-girlfriend's mother, using a hammer, according to The Associated Press.
The US Supreme Court's order follows Justice Samuel Alito's one-sentence order Tuesday evening, which halted to Bucklew's execution just hours before he was to be put to death, so that the justices could hear arguments on Wednesday afternoon.
Prior to Justice Alito's original order late Tuesday, a three-member panel of the Eighth US Circuit Court of Appeals had earlier in the day also stayed Bucklew's execution. But a larger Eighth Circuit panel then vacated that stay, without elaboration, and allowed the execution to proceed, until the US Supreme Court intervened.
The smaller appellate panel said Bucklew's unusual medical condition met its criteria for showing "the requisite sufficient likelihood of unnecessary pain and suffering beyond the constitutionally permissible amount inherent in all executions."
Bucklew's execution would have been the first in the United States since that of Oklahoma inmate Clayton Lockett on April 29. The state's effort to execute Mr. Lockett by lethal injection was bungled and called off, but he died of a heart attack within the hour, according to a state report. The fact that Oklahoma used drugs from a source it refused to identify has intensified a debate about anonymity of drug suppliers and whether condemned prisoners have a right to vet the source of the drugs the state plans to use to kill them.
The three-member appellate panel considering Bucklew's case did not directly take up that issue, although his legal team had raised it in the appeal, saying the unknown source and quality of the execution drugs could increase the likelihood that the process would cause Bucklew extreme pain.
The panel did critique, however, Missouri's insistence on proceeding with Bucklew's execution after his lawyers showed that his medical condition was especially unusual and warranted special consideration. The state had also resisted medical testing for Bucklew that would give his defense team a better understanding of how the lethal injection process might affect their client, the judges said.
The adjustments Missouri had suggested for Bucklew's execution procedures seemed to have been "made on the fly," the judges said, with no "meaningful assessment of the likely interaction of Bucklew's unique physiology with the execution protocol."
Bucklew is the second condemned prisoner this month to have his execution called off. The United States Court of Appeals for the Fifth Circuit, in New Orleans, had already granted a stay of execution to Texas inmate Robert Campbell. In that case, the court acted after learning that Texas did not disclose to the defense two IQ test scores showing that Mr. Campbell might be considered mentally handicapped (but it was not swayed to halt the execution over the issue of Texas's refusal to say where it had purchased its lethal injection drugs).
Campbell's legal team will now review the IQ tests in hopes of pressing ahead with its claim that their client is ineligible for the death penalty. 
Whether states can keep secret the sources of their lethal injection drugs remains an unsettled issue. Last week, five news organizations, including The Guardian and The Associated Press, filed a lawsuit in a Missouri court against the state's Department of Corrections, alleging that Missouri's refusal to name the supplier of its execution drugs violates the public's First Amendment right to information about how US officials carry out capital punishment.