Public confidence in Supreme Court at historic low, poll suggests
Only 30 percent of Americans have a 'great deal' or 'quite a lot' of confidence in the Supreme Court, according to Gallup. But another poll offers a more nuanced view.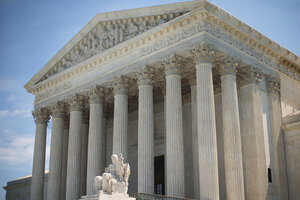 Pablo Martinez Monsivais/AP
It's no secret that the American public distrusts Congress, but this distrust is seeping into the public's view of the government's other branches, according to a recent poll by Gallup.
Only 30 percent of Americans have a "great deal" or "quite a lot" of confidence in the Supreme Court. That's the lowest figure since Gallup began measuring in 1973.
Recently, the report notes, confidence in the presidency and in the Supreme Court have been closely tied to each other. The presidential confidence rating, which stands at 29 percent according to Gallup, is at a six-year low.
Confidence in the court reached its high of 56 percent twice, in 1985 and 1988. It remained in the 40s and 50s for all but one year until 2007, when the Supreme Court's confidence rating began its decline into the low 30s.
Though less than a third of Americans have a "great deal" or "quite a lot" of confidence in the high court, according to Gallup, the portion of Americans who hold "very" or "mostly favorable" opinions of the court has risen, according to the Pew Research Center.
Though this distinction might seem fine, it is significant. The Pew survey conducted this April showed bipartisan favorability for the Supreme Court, with 63 percent of Democrats and 54 percent of Republicans expressing a "very" or "mostly favorable" view of the court. Overall, the number was 56 percent. That figure represents a bump up from July 2013, when 48 percent of respondents viewed the court favorably, after the court's relatively unpopular rulings on the Voting Rights Act and same-sex marriage.
Still, neither poll is necessarily a reason to celebrate. The Supreme Court's favorability rating, which historically hovered around 70 percent during the past two decades, is at its second-lowest point since Pew began measuring in 1985 – beating out only 2013.
Typically, favorability ratings for the court have hinged on its most recent actions. Shortly after it upheld key aspects of the Affordable Care Act in 2012, 64 percent of Democrats approved of the court versus 38 percent of Republicans. This partisan divide was also present shortly after the nomination of the left-leaning Justice Elena Kagan in 2010.
That means that the court's high approval rating among Democrats – and among the public more generally – could fall after the its decision on Tuesday to allow companies to deny their employees contraceptive coverage in some situations.
"There was a dramatic partisan reaction to the ACA decision in 2012, so its reasonable to think this will also have a partisan reaction," says Alec Tyson, senior research analyst at Pew. "What we can also say about the ACA decision is that the drop in favorability among Republicans was greater than the rise among Democrats."
The recent Gallup poll was conducted between June 5 and 8 among 1,027 adults, It has a margin of error of plus or minus 4 percent.
The Pew survey took place between April 23 and 27 among 1,501, and has a 3 percent margin of error.