Defiance in Alabama, as same-sex marriage ruling takes effect (+video)
Most county probate judges refused to issue marriage licenses in Alabama on Monday. Alabama's chief justice says that probate judges are not bound by a federal judge's ruling declaring the state's ban on same-sex marriage unconstitutional.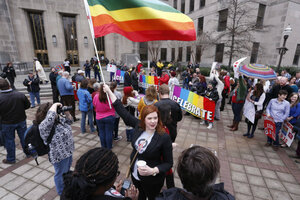 Hal Yeager/AP/File
Probate judges across Alabama refused to issue marriage licenses on Monday in the face of a federal court ruling last month declaring the state's ban on same-sex marriages unconstitutional. The ruling took effect Monday. 
Less than a quarter of the county probate judges were reported to be complying with the federal judge's ruling, while the rest declined to issue licenses or kept their offices closed. 
While some judges were complying and same-sex marriages were being performed in Alabama, the vast majority of probate judges were not participating. Fifty-three of the state's 67 probate judges were not issuing marriage licenses, according to the gay rights group Human Rights Campaign.
The open defiance came one day after Roy Moore, chief justice of the Alabama Supreme Court, ordered probate judges to continue to enforce the Alabama marriage restrictions despite the federal judge's ruling that they were invalid.
The escalating state-federal standoff has many observers drawing comparisons to Alabama's resistance to the civil rights movement. It is a clash that pits state officials seeking to enforce state sovereignty against a federal judiciary seeking to impose national authority.
The defiant stance came after the US Supreme Court announced Monday morning that it would not issue a stay to block the federal judge's ruling.
Last week, the Atlanta-based 11th US Circuit Court of Appeals also refused to block the ruling.
In late January, US District Judge Callie Granade ruled for two same-sex couples challenging an Alabama constitutional amendment and statute defining marriage as a "unique relationship between a man and a woman." The restriction violated the rights of same-sex couples under the US Constitution, the judge declared. 
Chief Justice Moore took issue with the ruling, saying that neither the US Supreme Court nor the Supreme Court of Alabama had ruled on the constitutionality of the state's marriage laws.
He said probate judges in Alabama were not bound by the federal judge's orders because the lawsuit was filed against Alabama Attorney General Luther Strange, who has no authority over the state judiciary. Instead, Moore said, probate judges fall under the direct authority of the chief justice as the administrative head of the state judiciary.
He said since Judge Granade did not direct any judges to take specific actions, her decisions were merely "persuasive authority."
The chief justice then urged Alabama Gov. Robert Bentley (R) to take action against any probate judges who follow the federal court's order.
For his part, Governor Bentley said he disagreed with the Supreme Court's decision not to issue a stay. He said litigation and appeals over the same-sex marriage issue had created confusion and conflicting instructions for state judges. But he declined to threaten any judges with sanctions if they complied with the federal ruling.
"Probate judges have a unique responsibility in our state, and I support them," he said in a statement. "I will not take any action against probate judges, which would only serve to further complicate this issue."
Attorney General Strange said he, too, regretted the Supreme Court's action in declining to issue a stay. "In the absence of a stay, there will likely be more confusion in the coming months," he said.
Strange noted that his office does not issue marriage licenses, and he advised probate judges to consult their lawyers and associations about how to properly respond to the federal ruling.
Meanwhile, attorneys for the same-sex couples filed a motion asking Granade to declare Don Davis, the probate judge in Mobile County, to be in contempt of court. They sought unspecified sanctions against Judge Davis for failing to comply with Granade's ruling.
According to the motion, Davis had failed to open the marriage license office on Monday. "The Honorable Don Davis has not given a reason why the marriage license division is closed on this particular day, and he has not stated as to when the office will reopen," the motion said in part.
The lawyers also asked Granade to order law enforcement officials to open the marriage license office.
Later on Monday, Granade denied the motion, saying that the plaintiffs had failed to show that Davis was not complying with the court's order.
"Probate Judge Don Davis is not a party in this case and [the ruling] did not directly order Davis to do anything," Granade said in a three-page order.
But the judge also issued a warning to Davis and any other probate judges who decline to issue marriage licenses to same-sex couples. You could be sued, she said.
"Actions against Judge Davis or others who fail to follow the Constitution could be initiated by persons who are harmed by their failure to follow the law," Granade said.
Defiance of the federal decision could prompt a class-action lawsuit drawing injunctions and the awarding of legal costs and attorney's fees, the judge noted.
The judge's order essentially instructs same-sex couples and their lawyers to file suit against any state officials who try to impede their attempt to obtain a marriage license. The order strongly suggests that the judge will respond favorably to any plaintiffs in such cases.
On another front, the National Organization for Marriage, which supports the traditional definition of marriage, issued a statement calling on the people of Alabama to "continue to enforce their state marriage laws."
NOM president Brian Brown said the constitutional amendment in Alabama passed in 2006 with the support of 81 percent of voters.
"A single federal judge does not have the authority to overturn a state marriage amendment and the people of Alabama should refuse to go along with this order," Mr. Brown said.
Brown said he supported Moore's approach. "These probate judges have sworn an oath to the people of Alabama and they must honor their oath to the people they serve," he said.