Why Oklahoma court granted Richard Glossip an 11th-hour stay of execution
Richard Glossip was twice tried and convicted of masterminding a 1997 murder. On Monday, his lawyers presented new evidence.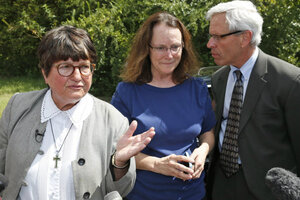 AP Photo/Sue Ogrocki
The Oklahoma Court of Criminal Appeals has granted death row inmate Richard Glossip a last-minute stay of execution.
The decision, issued just hours before Mr. Glossip was set to die by lethal injection, gives the court until Sept. 30 to consider new evidence his lawyers say points to his innocence. The stay is the latest development in the controversial case, which has forced the state to grapple with the question of how much uncertainty it is willing to tolerate in a lawful execution.
"[I]n order for this Court to give fair consideration to the materials included with his subsequent application for post-conviction relief, we hereby grant a stay of execution for two weeks," the ruling reads.
Glossip was twice tried and convicted of masterminding the 1997 murder of a man named Barry Van Treese, who owned the Oklahoma City motel that Glossip managed. The convictions relied largely on the testimony of Justin Sneed, who said he was acting under orders from Glossip when he carried out the murder. For testifying against Glossip, Mr. Sneed received a life sentence without parole, which he is currently serving.
Glossip, along with two other inmates, was originally scheduled to be executed in January. But their lawyer succeeded in convincing the US Supreme Court to consider a claim that Oklahoma's use of the experimental drug midazolam for executions would cause severe pain and suffering.
"Midazolam is an inappropriate drug to use in executions. The scientific evidence tells us that even the proper administration of midazolam can result in an inhumane execution," the lawyer for the inmates, Dale Baich, said in a statement at the time.
The nation's highest court disagreed and ruled 5 to 4 against Glossip and the other inmates. Oklahoma rescheduled his execution for Sept. 16.
On Monday, Glossip's lawyers presented new evidence suggesting that Sneed had lied during his testimony – including an affidavit from a man who had served time in prison with Sneed. That individual, Michael Scott, swore that among the inmates, "it was common knowledge that Justin Sneed lied and sold Richard Glossip up the river," according to The Intercept.
Glossip's attorneys presented the new evidence to Republican Gov. Mary Fallin on Tuesday, requesting a 60-day stay to let the materials be heard. Governor Fallin rejected the request, saying that much of the evidence was old.
After reviewing it with my legal team, we have determined the vast majority of the limited content they have presented is not new; furthermore, we find none of the material to be credible evidence of Richard Glossip's innocence. After carefully reviewing the facts of this case multiple times, I see no reason to cast doubt on the guilty verdict reached by the jury or to delay Glossip's sentence of death."
She did, however, urge his lawyers to instead present the materials to a court of law instead.
The state's highest court of appeals granted the stay Wednesday afternoon.
Opponents of capital punishment have used Glossip's case to highlight the risk of sentencing innocent people to death.
"This case pretty well sums up the state of the death penalty in America," according to The New York Times editorial board. "Supporters like to say it is reserved for the 'worst of the worst,' but ... [i]t is more accurate to say that capital punishment is arbitrary, racist and meted out to those without the resources to defend themselves."