Chicago cop due in court on murder charge, reignites debate over police videos
Chicago officer Jason Van Dyke is set to appear in court Monday to learn whether or not he will be offered bond, in a case that has again highlighted debate around the role of video in police work.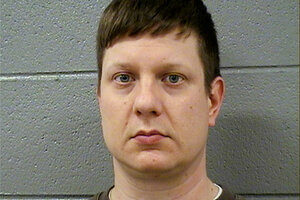 Cook County Sheriff's Office/AP
A white Chicago police officer facing a murder charge after a squad car video showed him fatally shooting a black teenager 16 times will make a second court appearance Monday to learn whether or not he will be granted bond.
A Cook County judge, who said he wanted to see the video before ruling on the issue of the bond, ordered 14-year Chicago Police Department veteran Jason Van Dyke to stay in custody after he was charged last Tuesday with first-degree murder in the death of Laquan McDonald in October 2014.
The issue has once more underscored the growing debate around the role of video in promoting transparency around police work: Even as some over the last year pushed for the video's release, others – including the local police department, Chicago Mayor Rahm Emanuel, Laquan's family, and some activists – have fought to keep it secret. Some experts say that the pushback comes partly out of concern for the victim's family, as well as how the footage might be used.
"From a public opinion perspective, it's interesting because people are very supportive of cameras in the interest of transparency, but they're much less supportive of the general public having access to video," said William Sousa, director of the Center for Crime and Justice Policy at the University of Nevada in Las Vegas, to the Monitor last week.
"It ties back to this idea that transparency is a very good thing, but we have to also balance the rights of the officers, the rights of citizens, and respect due process in terms of the way that we treat evidence – and it's all a balance that cities are really struggling with now," he said.
The footage, released Tuesday, shows Mr. Van Dyke jumping out of his squad car and shooting Laquan as the teenager, a small knife in hand, tries to walk past Van Dyke and some other officers. Demonstrations have since been held in protest of the killing, and reached their height on Black Friday when up to 2,000 people protesting police violence marched along the city's "Magnificent Mile" district on the busiest shopping day of the year.
At the same time, Chicago's main police union has stood behind Van Dyke, posting a bail fund appeal for the officer on its website. The Chicago lodge of the Fraternal Order of Police is also paying for Van Dyke's defense, a common practice among police unions in the United States.
Some officers have expressed concern that the decision by Cook County State's Attorney Anita Alvarez to charge Van Dyke with first-degree murder was politically motivated. Others said it shows little understanding of the pressures that officers face when dealing with a suspect holding a weapon.
"A police officer sees that video and has a different mindset than the rest of the people out there," the officer, who asked not to be named, told Reuters. "It could be one of us."
This report contains material from The Associated Press and Reuters.