In Missouri, racial profiling of black drivers by police improves
Black motorists were 69 percent more likely than whites to be pulled over in 2015, a study released Wednesday says. That rate was 75 percent in 2014.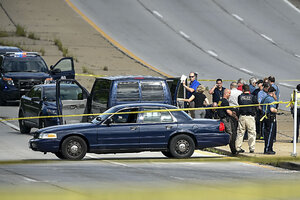 (David Eulitt /The Kansas City Star via AP)
Black drivers in Missouri were nearly 70 percent more likely than whites to get stopped by the police last year, marking a slight improvement from the year before but showing there still are significant racial disparities in such stops.
State Attorney General Chris Koster's office released a report Wednesday showing that black motorists were 69 percent more likely than whites to be pulled over, based on their proportionate share of the driving-age population. That rate was 75 percent in 2014, which was the highest since data collection began in 2000.
Furthermore, police continue to arrest and search black and Hispanic drivers at rates "significantly higher than white drivers, even though white drivers are more frequently found to have contraband," according to Koster's analysis.
The treatment of blacks by the police has gotten a lot of attention in Missouri and elsewhere since the August 2014 fatal shooting of an unarmed black teenager, Michael Brown, by a white police officer in the St. Louis suburb of Ferguson. Despite the record-high racial disparity in traffic stops in 2014, neither Republican-led chamber of the Legislature allowed a full vote this year on Democratic-sponsored bills aimed at curbing racial profiling.
In Ferguson last year, blacks were again pulled over at a lower rate than the statewide average, but they were still more than four times as likely to be stopped as white drivers, according to the new data.
Koster cautioned that there are holes in the data and said in a statement that the "statistical disproportion does not prove that law enforcement officers are making vehicle stops based on the perceived race or ethnicity of the driver."
For example, the data only deals with the driving-age population and not the population that actually drives. The disparities also could be skewed if a major highway runs through a city or town, meaning police would likely pull over drivers from other cities or states.
Koster called on the Legislature to gather input from law enforcement, cities and others on how to improve the report and the data collected. He said revisions could include strengthening penalties for departments that fail to report. Fifteen agencies failed to meet the March 1 reporting deadline.
Some legislative proposals that failed to pass included provisions to require the governor to withhold funding if law enforcement agencies don't submit reports.
As The Christian Science Monitor reports nearly a dozen US cities have turned to a federal review of their law enforcement efforts to improve trust within the community. In February, San Francisco chose to get such a review.
The review is admittedly less harsh than the investigations the Justice Department launched in Cleveland and Ferguson, Mo., which led to court-ordered reforms. But that is partly the point. The move speaks to the Obama administration's growing focus – in the face of heightened racial tensions and eroded police-community relations – on collaborative efforts to reform law enforcement policies and practices around the country.   

And the program's track record speaks to some success. The Justice Department launched the collaborative reform initiative in 2011, and one police expert calls the report on the first participant, Las Vegas, "outstanding."

If rebuilding trust is the goal, experts say, the Justice Department review could be an effective tool. 

"The important part is having transparency in police agencies and gaining back trust in the community," says Tod Burke, a former Maryland police officer who is now a criminal justice professor at Radford University in Virginia. "Policy is often enforced by the officers. You have to have buy-in from the police and buy-in from the community" for any strategy to work.