Video plays a crucial role in Alton Sterling shooting
Alton Sterling, a 37-year-old black man, was shot by police outside of a Baton Rouge convenience store. Unverified video footage of the encounter, which ended in Mr. Sterling's death, was posted online.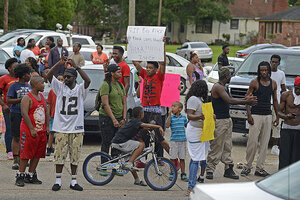 (Hilary Scheinuk/The Advocate via AP
About 200 protestors took to the streets of Baton Rouge Tuesday afternoon, after a Louisiana police officer shot and killed Alton Sterling, a 37-year-old black man, outside of a Baton Rouge convenience store.
The shooting took place early Tuesday morning. The two officers arrived at the convenience store at around 12:35 a.m., responding to a call that described a man in a red shirt selling CDs who had allegedly threatened the male caller with a gun.
Unverified video footage of the encounter, which ended in Mr. Sterling's death, was posted online. The footage shows the officers forcing Sterling to the ground and taking out their guns. The audio appears to capture one officer saying something that includes "going for the gun," according to a Washington Post analysis.
Two sounds like shots ring out, and the video-taper drops his phone as the people around react in shock and horror.
Alton was dead by the time the ambulance arrived at 12:46 a.m. A report from the coroner's officer found that he had been shot more than two times. Baton Rouge Police Cpl. L'Jean Mckneely Jr. said two officers "have been placed on administrative leave per standard procedure," and that video would be reviewed as part of the investigation.
Protestors chanting "black lives matter" and "hands up don't shoot" began gathering in the streets Tuesday afternoon and stayed late into the night, as news – and the video – continued to spread.
Activists and mourners have been pointing to the disturbing parallels between the shooting and its video recording and past tragedies involving police violence, like the 2015 murder of Walter Scott in South Carolina, or the 2014 death of Eric Garner, who died after being put in a chokehold by NYPD, both of which were filmed by non-police observers.
In recent years, the presence of the cellphone video has played a crucial role in investigations, as well as fueling public outrage and awareness of these cases.
"In most cases ... law enforcement's point of view tends to dominate stories, as eyewitnesses might not be available or willing to talk, and victims – in the most violent cases – might be severely injured or dead," writes David Uberti of the Columbia Journalism Review. "But smartphone video footage is changing the dynamic in a growing number of instances."
Mr. Uberti writes that it's "unclear" whether these deaths would have gained the national media coverage that they did without the video component to provide a counter perspective to the police narrative.
And when police-recorded footage exists, prosecutors and officials have grappled with the question of whether to release it to the public, as in several cases in Chicago. However, as the movement against police violence has grown in the US, so has the cry for transparency, both for police videos to be released and for more police body cameras and dash cams to collect evidence and hold officers accountable.
"In the future ... you're not going to be able to hold [this kind of information] back, because it's become the way we discuss issues around police use of force – it's the way we have this conversation now," Jack McDevitt, director of the Institute on Race and Justice at Northeastern University in Boston told The Christian Science Monitor, in an interview about the release of evidence, including video, in cases against police officers in Chicago.
In this week's shooting, Sandra Sterling, Alton Sterling's aunt, told The Washington Post that while the video was horrifying to watch, she was glad that it existed so that police and news media couldn't adapt the story to make her nephew "seem like the bad guy."
Material from the AP was used in this report.