Baby black rhino born at St. Louis zoo
Baby black rhino was born earlier this month in the eastern Missouri city. Part of an endangered species, the baby black rhino does not have a name yet.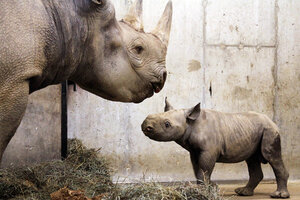 Saint Louis Zoo/Handout/AP Photo
The St. Louis Zoo is celebrating a new arrival — a black rhino calf.
The 120 1/2-pound calf was born Jan. 14, the first time in 20 years that a black rhino was born at the zoo. Zoo staff members are still coming up with a name.
The calf is said to be feeding well and bonding with his parents in a barn. He won't make his public debut until the weather warms.

Recommended:
Beijing Zoo lets visitors admire, eat wildlife
The black rhino is endangered. Zoo officials say it is believed that about 65,000 existed in Africa in 1970. By 1993, there were only about 2,300 in the wild.
The zoo's black rhinos are part of the Association of Zoos and Aquariums' Black Rhino Species Survival Plan, aimed at managing a genetically healthy population in North American zoos.