Penn State sex scandal: Lawyer says client ready to testify against Jerry Sandusky
A Pennsylvania attorney represents a young man who alleges former Penn State assistant football coach Jerry Sandusky sexually assaulted him.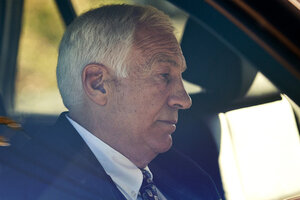 Andy Colwell/The Patriot-News/AP/File
A lawyer says he has a client who intends to testify that he was sexually assaulted by Jerry Sandusky, the former Penn State assistant football coach charged with abusing eight boys over 15 years.
The Harrisburg attorney, Ben Andreozzi, said in a statement Wednesday that he has his "finger on the pulse" of the case and that other alleged assault victims are coming forward. He says he'll say more about that later this week.
Andreozzi's statement comes two days after Sandusky asserted his innocence in a television interview.
Andreozzi says Sandusky's comments have revictimized people and that Penn State hasn't reached out to accusers to offer counseling.
The answering machine at the State College office of Joe Amendola, Sandusky's lawyer, is full and isn't accepting messages.