Syracuse sex scandal: Head coach Jim Boeheim to break his silence Tuesday
Syracuse University head coach Jim Boeheim is expected to address accusations that his assistant, Bernie Fine, molested three boys.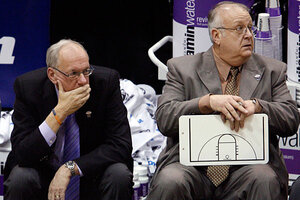 (AP Photo/Steve C. Wilson, File)
The Hall of Fame head coach of Syracuse University's basketball team whose assistant was fired over allegations of sexually molesting boys stayed mum Monday about the growing scandal, but the school said he would speak publicly after a Tuesday game.
Jim Boeheim, whose multimillion-dollar basketball program has been rocked by the accusation against assistant coach Bernie Fine, will hold a news conference after the Tuesday evening home game against Eastern Michigan University, Syracuse's athletic department said.
It was not clear if Boeheim would address the scandal or would stick to discussing the game only.
Fine, who was fired Sunday, is the target of a grand jury investigation into accusations that he molested a former ball boy, Bobby Davis, 39, and at least one other boy, Davis's stepbrother Mike Lang, 45, when they were juveniles.
Pittsburgh police said they would also investigate allegations from a third man, Zach Tomaselli, that Fine tried to fondle him in a hotel in 2002, and were in contact with Syracuse police to gather information about the case. They said they learned of the allegations from media reports.
Fine has called the accusations against him ``patently false in every aspect.''
Fines firing came after ESPN aired an audio recording it said was of a 2002 conversation between Davis and Fine's wife Laurie in which she said she knew about the alleged molestation but felt unable to stop it. The conversation was recorded by Davis without her knowledge, ESPN said.
Boeheim, Fine's boss of 35 years and a Hall of Fame coach, said Sunday he backed the firing, dropping the support he voiced for Fine when the allegations surfaced last week.
``What is most important is that this matter be fully investigated,'' he said in a statement posted on Facebook.
``I deeply regret any statements I made that might have inhibited that from occurring or been insensitive to victims of abuse,'' he added.
The university in upstate New York first investigated and dismissed the allegations for lack of corroboration in 2005.
Syracuse is considered one of the top college basketball programs in the country, and the team is undefeated early in the season. On Monday, the basketball team was practicing at a closed session.
No one answered the doors at the homes of Fine or Boeheim. The two families live across the street from each other.
SYRACUSE POLICE TO SHARE DATA
Also on Tuesday, Syracuse police, who have launched a probe into the allegations against Fine, said they would share their information with the Onondaga District Attorney's office, which launched the grand jury investigation.
Details of the investigations have so far not been made public, and the allegations have been based on statements made by the alleged victims. District Attorney William Fitzpatrick has said the police refused to share information.
``The Syracuse Police Department will provide the information requested by the Onondaga County District Attorney's Office on Tuesday,'' police said in a statement, calling it ``the appropriate time.''
``We have now moved into a new phase of the investigation with the U.S. Attorney's Office and the United States Secret Service taking the lead,'' the police said.
New York state police and agents with the U.S. Secret Service executed a search warrant at Fine's home Friday. Experts said federal involvement could indicate the serious nature of possible crimes.
The world of college sports had already been reeling from allegations of abuse and possible cover-ups at football powerhouse Penn State, where a former assistant coach faces 40 sexual abuse charges.
The charges of molesting eight boys over 15 years against former Penn State assistant football coach Jerry Sandusky have cost the jobs of legendary football coach Joe Paterno and school president Graham Spanier.
Syracuse is the third major university to disclose abuse allegations after Penn State and South Carolina military college The Citadel, which disclosed that a student it investigated in 2005 had been arrested on accusations of molesting boys. (Additional reporting by Lauren Keiper in Boston, editing by Ellen Wulfhorst, Greg McCune, Dan Whitcomb and Eric Walsh)