Seahawks 747 flies number 12 pattern over Washington state
Seahawks 747 is painted with the number 12 on the tail. This is a tribute to Seattle's fan base, known as the '12th man.' The Seahawks 747 also has the NFL team's logo on it.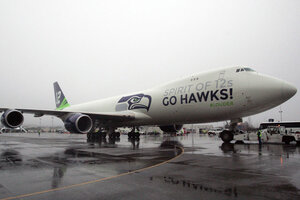 Sofia Jaramillo, The Herald/AP
Boeing is flying the Seahawks colors high over Washington.
The company painted a 747 freighter with the team logo and the Number 12 on the tail to salute the fans.
The plane rolled out of a hangar Wednesday at Paine Field in Everett. It flew to Boeing Field in Seattle on Thursday for a brief stop and then took off to fly a 12 pattern over Eastern Washington.
The freighter is owned by Boeing and used for flight testing.
Boeing partners with the Seahawks on program in the Puget Sound area and is displaying the 747 as a tribute to the team's success as it heads into the Super Bowl.