Oregon, Washington declare states of emergency to battle wildfires
Several wildfires in the Pacific Northwest have caused governors in Seattle and Oregon to declare states of emergency, moves with allow them to call in the National Guard to assist with firefighting efforts.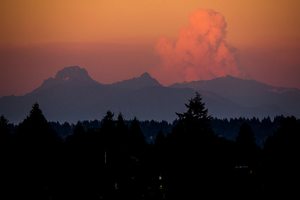 Jordan Stead/Seattlepi.com/AP
Worsening wildfire activity prompted the governor's offices in both Washington and Oregon to declare a state of emergency, a move that enables state officials to call up the National Guard.
Oregon Gov. John Kitzhaber has issued an emergency declaration in response to wildfires, Wednesday.
Kitzhaber's verbal declaration on Wednesday enables the Oregon National Guard to assist with firefighting as needed.
Kitzhaber says the declaration will help protect people, property and natural areas.
Hot and dry weather has fueled a number of wildfires across Oregon, forcing evacuations and closing roadways.
Authorities in Central Washington State urged residents of nearly 900 homes to flee a wildfire fueled by strong winds that was tearing through timber in its path late Wednesday.
Firefighters could not contain the fire raging 10 miles (16 kilometers) north of the Bavarian-themed village of Leavenworth on Wednesday and hot and windy conditions were forecast for Thursday.
The fire's smoke plume was visible for miles as it rose 25,000 feet (7.6 kilometers) into the air.
Residents of 860 homes were told they should leave immediately, fire spokesman Rick Acosta said late Wednesday. Authorities said that another 800 homes were less seriously threatened.
Nearly 1,000 firefighters were battling three separate wildfires in the state.
Wildfires were also burning in Utah, Idaho, and California.
The California blaze was started on Friday by marijuana growing activity, authorities said.