California 'kill switch' law: Brown signs anti-theft device requirement into law
California 'kill switch' law: The new law seeks to combat smartphone theft, which accounts for more than half of all crimes in several of California's large cities.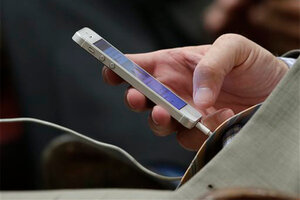 Rich Pedroncelli/AP
Smartphones in California will be required to come with a "kill switch" to render them useless if lost or stolen under a bill signed Monday by Governor Jerry Brown, the latest effort to stem an epidemic of phone theft in the most populous US state.
The bill would be the strongest attempt yet by a US state to fight smartphone theft, which accounts for more than half of crimes in several of the state's large cities.
"Our efforts will effectively wipe out the incentive to steal smartphones and curb this crime of convenience, which is fueling street crime and violence within our communities," said Democratic state Senator Mark Leno, the bill's author.

Test Your Knowledge
Could you pass a US citizenship test? Find out.
Under the new law all smartphones sold in the state after July 2015 will come pre-equipped with technology allowing them to be shut down remotely in the event of theft.
The bill received wide support from California prosecutors and law enforcement agencies that hoped it could help reduce smartphone thefts.
According to the National Consumers League, handheld devices were stolen from 1.6 million Americans in 2012. In California, smartphone theft accounts for more than half of all crimes in San Francisco, Oakland and other cities.
Other states experiencing a rash of smart phone thefts have considered similar measures, and Minnesota passed a theft-prevention law in May. California's new law, though, will go further, requiring manufacturers to notify consumers that the technology is available on their phones, hopefully prompting consumers to enable the kill switch.
The wireless industry removed its opposition to the bill after Leno agreed to postpone its effective date until July of 2015, the senator said. (Editing by Sharon Bernstein and Eric Walsh)