To repeal 'don't ask, don't tell,' Obama has work ahead of him
President Obama on Wednesday renewed his campaign pledge to repeal the 'don't ask, don't tell' policy toward gays in the military. It's on his agenda for this year, but he didn't say how he'd pursue it.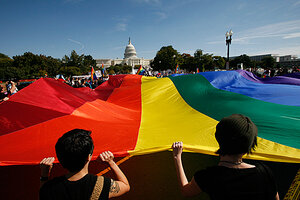 Molly Riley/REUTERS
President Obama reiterated his campaign pledge to eliminate the "don't ask, don't tell" policy preventing gay people from serving openly in the US military, but his State of the Union address Wednesday night was short on specifics concerning how or when he would do it.
Mr. Obama is under pressure from gay rights advocates to change the policy, but doing so requires congressional approval. Even as Obama is leaning heavily on his military for operations overseas, he will have to ask them to accept a fundamental change that, despite changing attitudes within the military, run counter to its cultural grain.
Endorsement of a policy change was expected during the State of the Union, but in the end the president made only passing reference to it.
"This year – this year, I will work with Congress and our military to finally repeal the law that denies gay Americans the right to serve the country they love because of who they are," Obama said to cheers and applause among the assembly at the House of Representatives, as the Joint Chiefs of Staff sat glumly before him. "It's the right thing to do."
Critics of "don't ask, don't tell" have for years tried to undo the policy, and repealing it was an Obama campaign pledge. A year into his term, however, little has been done, and gay rights activists were hoping for more details on Wednesday.
"Including repeal in the State of the Union address makes clear that the President considers this issue important," said Christopher Neff, deputy executive director of the Palm Center at the University of California, Santa Barbara, a research institute focused on sexual minorities. "The path to repeal will require both a command decision by the President and a clear timeline which follows," he said in a statement.
Defense Secretary Robert Gates, who was among those to give a standing ovation to Obama's pledge to repeal the policy, may play an active role. The only top-level holdover from the Bush administration, he has the ear of many lawmakers in Congress and the respect of many senior officers at the Pentagon. With the United States committed to a military buildup in Afghanistan, many in the military appear ready for the Obama administration to declare a moratorium on discharging openly gay individuals, as a precursor to eliminating the policy altogether. Gates has asked Pentagon lawyers to examine specific cases, but he has stopped short of endorsing an across-the-board end to dismissals of gay service members.
The existing law, signed by President Clinton in 1993, allows gays and lesbians to serve as long as they do not disclose their homosexuality.
About 66,000 gay men and lesbians, including about 13,000 on active duty, are serving currently in the US military, according to a study released last week by the Williams Institute at the University of California, Los Angeles. Since the policy's implementation, "don't ask, don't tell" has cost the military between $290 million and $500 million to pay for the discharge of individuals known to be homosexual and to recruit new service members, the report concluded. It costs the military between $23,000 and $43,000 to replace a service member who has been discharged, according to the Williams Institute.
The fact that Obama mentioned "don't ask, don't tell" at all is a good sign for gay service members, says Larry Korb, a senior fellow at the Center for American Progress, a liberal-leaning think tank in Washington.
"There are literally hundreds of things he could have mentioned," says Mr. Korb, a former Pentagon official under President Ronald Reagan. But Obama could have been more specific, he suggests. "The language could have been stronger," he says.
Legislation to eliminate the policy has dozens of supporters in Congress, though whether it has enough votes to pass is not clear. Moreover, the Joint Chiefs – the heads of the services – are mixed about repealing it. Marine Commandant Gen. James Conway, for one, is on record as saying he does not believe it should be changed. Last week, the chiefs met with their chairman, Adm. Mike Mullen, and the consensus seems to be that with the military fighting two wars – and now responding to a new mission in Haiti – now is not the time to make such a big change to military policy.
Attitudes within the military have evolved since the policy was established. But many within the military still have doubts about whether a policy that allows homosexuals to serve openly can be effectively implemented.
----
Follow us on Twitter.