Defense secretary signals he'll reassess Navy, Marine Corps programs
The Marine Corps' amphibious Expeditionary Fighting Vehicle and the Navy's big aircraft carrier fleet are examples of programs ripe for reevaluation, Defense Secretary Robert Gates said Monday.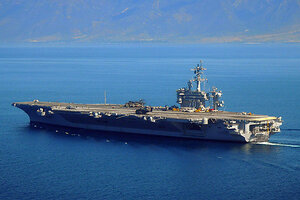 Petty Officer 2nd Class Daniel Barker/US Navy/Handout/Reuters
Defense Secretary Robert Gates has been pushing to change the course of the US military, scrapping expensive programs he sees as marginal and arguing for cheaper, more relevant platforms – and now he has set his sights on the Navy and Marine Corps.
For years Mr. Gates has called out the Air Force for demanding expensive aircraft such as the F-22 Raptor, a $140-million-a-copy stealth fighter that the defense secretary has now essentially discontinued. But in a time of tight budgets, even for the US military, Gates seems intent on spreading the pain. Now, it's the sea services' turn.
At a conference outside Washington hosted by the Navy League, Gates on Monday singled out aircraft carriers and the Marine Corps' Expeditionary Fighting Vehicle as two examples that need Pentagon reevaluation.
The Navy's aircraft carriers, he told the Navy-Marine Corps audience, represent an example of the US military's conventional military might – power that is unmatched by any nation. But he asked whether the US needs to maintain 11 aircraft carriers and their attending ships – known as a carrier strike group – for decades to come.
"Do we really need 11 carrier strike groups for another 30 years when no other counry has one?" the Pentagon chief said. "Any future plans must address these realities." The Ford class of carriers is being built now.
Likewise, the Corps' Expeditionary Fighting Vehicle (EFV), a tracked vehicle that looks like a tank for water, is capable of carrying marines ashore during an amphibious assault. But the star quality of the vehicle, which has been in development since the 1980s and won't be operational for another year or so, has faded because of performance problems and cost overruns.
In his speech, Gates noted that the capability the vehicle provides was needed in the past, most recently during the first Gulf War. Today may be a different story, he said. "We have to take a hard look at where it would be necessary or sensible to launch another major amphibious landing again – especially as advances in antiship systems keep pushing the potential launch point further from ashore," Gates said. "On a more basic level, in the 21st century, what kind of amphibious capability do we really need to deal with the most likely scenarios, and then how much?"
Gates' remarks amount to more than idle pondering. Many of his speeches are laced with references that typically translate to policy direction. Corps officials, including Gen. James Conway, commandant of the Marine Corps, defend the program – including Monday morning at the same conference, where he reiterated his support for the EFV. Corps officials issued a statement Monday, saying that while the Corps "understands the challenges that face the EFV," the platform is a "key enablers for amphibious flexibility" and that it remains the service's "Number one ground combat acquisition priority."
But other Marine officials may be taking a more forward-looking posture. They sound as if they are not wedded to the particular EFV program, just the capability it brings.
"The issue is not the specific platform/vehicle, it's the ability of our nation to conduct forcible entry," says one senior Marine officer. "We need a vehicle that can conduct ship to shore movement…. [Gates] is right, we need to think about how much we need."
Gates must raise questions about Navy programs given overall concerns about the growing constraints of the defense budget, says Jan van Tol, a senior fellow at the Center for Strategic and Budgetary Assessments, a think tank in Washington.
"If defense spending is going to be more or less level spending for the foreseeable future, simple math suggests that the acquisition portion of the defense budget is going to be ever more pressured," says Mr. van Tol, a retired naval officer.
Van Tol says he doesn't necessarily agree that there should be fewer aircraft carriers, given the missions American carriers perform now. And he recognizes that the EFV is a sensitive subject for the Corps: Cutting the program could raise fundamental questions about the service's overall amphibious mission. But he recognizes that, at a time of tight budgets, the Navy and Marine Corps are not immune. Their proposed budget for this next year is $160 billion.
"By necessity, Navy programs are going to come under the microscope," he says. "That's where a lot of the money is."
Related: