SEAL Team Six: 10 questions on the operation that killed Osama bin Laden
For a decade, it was an ongoing effort – one that a senior Obama administration official called on Monday morning "America's most vexing intelligence problem: where to find bin Laden."
Here are 10 questions and answers about how the operatives commonly known as 'SEAL Team Six' killed Osama bin Laden.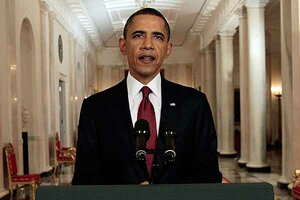 Pablo Martinez Monsivais/AP
1.

When did President Obama authorize the strike?

On the morning of Friday, April 29, Mr. Obama greenlighted the operation, which US operatives had been planning for months.