Pentagon budget: Does it pit active-duty forces against retirees?
Personnel costs in the Pentagon's base budget have grown enormously over the past decade. Now, officials are trying to making tough choices about where to make cuts.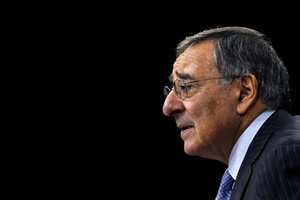 Pablo Martinez Monsivais/AP/File
The Pentagon's new defense budget sets up a politically charged competition within the US military – one that pits active-duty troops against military retirees who have served in previous wars.
The crux of the debate involves differences of opinion over whether the Department of Defense should cut retiree benefits – or the size and pay raises of the active-duty forces.
In other words, the Pentagon can either cut the amount it spends per service member, or it can increase the fees that retirees pay for health care and other benefits.
Personnel costs in the Pentagon's base budget have grown enormously over the past decade – up 90 percent since 2001. These costs now represent one-third of the Pentagon's budget. If the Pentagon continues at this rate and the overall defense budget stays flat, by 2039, "personnel costs would consume the entire defense budget," says Todd Harrison, an analyst at the Center for Strategic and Budgetary Assessments in Washington.
"We obviously can't let that happen," he adds. "That won't happen."
The increase in the cost per person has been driven in no small part by new and expanded benefits for retirees, including a health-care program that did not exist before 9/11.
This health-care benefit, a Medicare supplement called TRICARE for Life, costs some $11 billion a year. "That's not a small amount of money," Mr. Harrison says, adding that it amounts to the price of an aircraft carrier every year.
At the same time, overall personnel costs continue to grow. For every dollar in basic pay that the Pentagon currently spends, it must now set aside roughly 33 cents to pay the expected retirement benefits of US troops who are serving today.
This means that personnel costs are consuming an increasingly large share of the military budget, affecting the amount of money that the Pentagon spends on "research and development, readiness, training, and other priorities," Harrison says.
"It's an intergenerational competition that's going on in the budget whether we like it or not," he says. "This is one that people don't like to talk about – and you don't hear the military framing it this way."
Perhaps the hardest problem is that the United States currently has more military retirees drawing pay than active-duty troops: Some 2 million retirees draw pay, versus 1.5 million in the active-duty force.
Under the current defense budget, the Pentagon is planning to cut the active-duty Army and Marine Corps by 72,000 and 20,000, respectively, over the next several years. That would bring the forces roughly back to the levels they were in 2005.
The Pentagon has already announced plans to slow the growth in basic pay, raise the fees that retirees pay for health care, and form a commission to study retirement benefits.
Now, the new Pentagon budget quadruples the premiums that the highest-earning retirees must pay in the years to come for TRICARE for Life. This is likely to prompt backlash, but it was either raise the premiums or "make much larger cuts in force structure, and we don't want to do that," Robert Hale, the Pentagon's chief financial officer, said in a briefing Monday. Also, pay raises for troops will be lower – probably decreasing from 1.7 percent annually in 2013 and 2014 to 0.5 percent in 2015 and then back up to 1 percent in 2016 (assuming some sort of economic recovery), according to Mr. Hale.
The question remains whether the Pentagon can slow the growth in personnel costs per person in a way that it can avoid deeper cuts in the size of US forces, or end strength, Harrison says.
"I think that's what'll end up happening," he says. "If they can't slow the growth in the costs per person, we're going to see deeper reductions in end strength than are already planned."
That is a possibility the Pentagon is already exploring. Retention rates are high in the military given the weak economy, Hale says. As a result, the Pentagon will tighten reenlistment standards, and it's also looking into incentives to encourage troops to leave the military.
Even so, "I don't think we can stand here and say there won't be any involuntary separations. We're just going to see how the economy recovers," he adds. "We'll try to do this in as humane a way as we can."
--
VIDEO: William Cohen, chairman of the Cohen Group and a former US Defense secretary, talks about President Obama's revamped military strategy amid budget constraints.