'No Easy Day': six top revelations from book on the bin Laden mission
The Navy SEAL Team 6 operators hand-picked to raid Osama bin Laden's compound in 2011 had some unwelcome surprises waiting for them as they hit the ground, according to Matt Bissonnette (pen name Mark Owen) in his controversial book "No Easy Day," released Tuesday.
The training that went into the mission included key help from female operators, practical jokes, and an audition of sorts for top US officials, who watched it before deciding whether the Special Operations Forces should go ahead with the raid.
"None of us had believed Washington would approve the mission," Mr. Bissonnette writes.
Here are the top six revelations from his new memoir.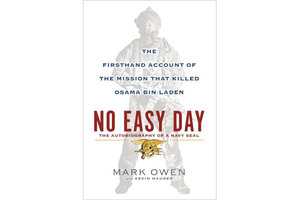 1.

VIPs gathered for a dress rehearsal two weeks before the mission

At a massive hangar at a base training center, the chairman of the Joint Chiefs of Staff, Adm. Mike Mullen, and Adm. William McRaven, now commander of Special Operations Command, wanted to evaluate the plan to raid bin Laden's compound, and decide whether to go ahead with it.

The SEALs then executed a "rock drill," that included everything from helicopter flight paths to a mock-up of the compound on the floor. "A narrator reading off a script started the hour-and-a-half-long brief on Operation Neptune Spear."

Most of the questions from the VIPs focused on the perimeter team. This included two special operations assaulters, along with a trained dog, who would patrol outside the compound to capture "squirters" – fighters running out of the compound to engage the Americans or wearing suicide bombs to protect bin Laden.

This job "was actually one of the biggest and most dangerous positions on the raid," Bissonnette writes. "If we ran long on target, they would have to deal with first responders, most likely [Pakistani] police, and the threat of military forces showing up."

During the VIP briefing, someone asked whether "this was a kill mission." A government lawyer responded that it was not. "If he is naked with his hands up, you're not going to engage him," the lawyer told the SEALs, adding, "I am not going to tell you how to do your job. What we're saying is if he does not pose a threat, you will detain him."