Iraq War at 10: for families of wounded, a mounting cost
Some 32,000 wounded Iraq War veterans face long delays for care at the Veterans Administration, and even less is known about the strains on some 1 million family caregivers.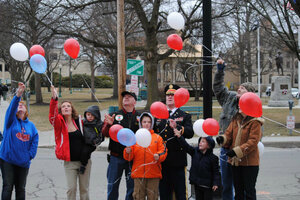 Dan Polinski/The Daily Review/AP
The 10-year anniversary of America's war in Iraq came and went with little fanfare this week, but in homes across the country, veterans – and the family members who care for them – continue to struggle mightily with the wounds of battle.
Two new studies highlight their plight. On a Friday afternoon this month, the Army quietly released a Pentagon Inspector General's report which found "non-compliance" on the part of the Army in processing soldiers' disability claims.
The report issued a further rebuke, noting that the method for filing disability claims is "increasing the workload and confusion for all participants and leaders concerned." 
That navigating the veterans' disabilities claims process is confusing has long been known. The problem, veterans advocates say, is that it is not appreciably improving for the 32,000 troops who were wounded in the war. 
A report released this month from the Center for Investigative Reporting, "The War Comes Home: Washington's Battle Against America's Veterans," finds that some 600,000 claims of wounded veterans from the wars in Iraq, Afghanistan, and Vietnam are backlogged as service members await an answer from the Department of Veterans Affairs. 
By way of illustration, the "excessive" stacks of paper and claims folders piled around the offices of a VA regional office in Winston-Salem, N.C., for example, were so great that it "appeared to have the potential to compromise the [structural] integrity of the building," according to an August 2012 report from the VA's Office of the Inspector General.
Indeed, these heaps of paper – an estimated 37,000 claims folders stored on top of file cabinets – not only led to a predictable "increased risk of loss or misfiling," but they also exceeded the load-bearing capacity of the building by 39 pounds per square foot, according to the IG report. 
Many of these claims awaiting response are made by family members and spouses requesting help caring for some of these wounded returning from war, says Terri Tanielian, lead author of a RAND Corp. report on military caregivers released earlier this month. 
Indeed, these spouses and – in the case of unmarried troops – parents who care for troops returning from war "often toil long hours with little support, putting them at risk for physical, emotional, and financial harm," according to the report, which estimates that there are as many as one million such caregivers throughout the United States.
"These are the people that give the help with dressing, feeding, bathing, toileting these returning veterans," says Ms. Tanielian says. 
The role that these military caregivers play "can place stress and burdens on individual caregivers so much that they experience deteriorations of their own," often in the form of "higher rates of emotional stress and anxiety," Tanielian adds.
They grapple with concerns about income loss, since many of them have to reduce the number of hours that they can work outside the home, or leave the workforce altogether, she notes. "The set of burdens caregivers take on as a result of spending time in their caregiving role can accumulate and cascade."
The problem, the RAND report warns, is that there is "no national strategy" for supporting these ad hoc caregivers, who are often younger women with small children at home. 
What's more, beyond those two key details, she adds, "little is known about them."
That needs to change, she adds. "If we're going to make sure that veterans can have a successful reintegration after they return from war, we need to tend to the needs of the caregivers, too."