Top 10 revelations from Leon Panetta's new book 'Worthy Fights'
Former Secretary of Defense Leon Panetta tackles some major policy debates in his new book, "Worthy Fights: a Memoir of Leadership in War and Peace," out Tuesday.
These include whether President Obama pushed hard enough to leave US troops in Iraq back in 2011 (Mr. Panetta doesn't think so) to whether the White House tried to cover up the circumstances surrounding the death of a US ambassador in Benghazi, Libya. (No, but Panetta disagreed with the intelligence assessments of then-CIA director David Petraeus.)
Here are the top 10 revelations – some more surprising than others – from the book.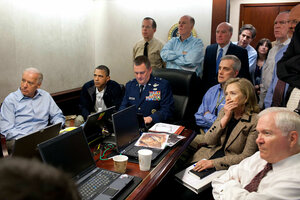 Pete Souza/The White House/AP/File
1.

Osama bin Laden raid almost delayed for a social event

Mr. Panetta, who was then head of the CIA, had warned his CIA colleagues and others that if the Special Forces raid on Osama bin Laden's compound were conducted on Saturday night, it would conflict with the annual White House Correspondents' Dinner, "a high-profile evening that brings together Washington journalists and political figures," he notes. "It would be hard to explain the absence of the president and other key officials from the event."

This warning "rankled some of the military leaders, who groused about having to accommodate the 'Washington social schedule' in a matter of national security."

It was the head of Joint Special Operations Forces, Adm. William McRaven, who helped avoid a clash: He concluded that the weather was "slightly more advantageous" on Sunday than Saturday.