Bowe Bergdahl faces 'misbehavior before the enemy' charge. What is that?
Sgt. Bowe Bergdahl, who returned to the US in a swap for Taliban prisoners, has been charged with desertion and misbehavior before the enemy. The second charge is more serious.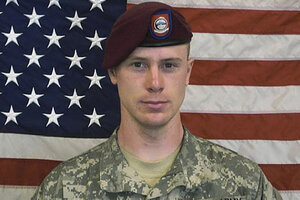 US Army/AP/File
Sgt. Bowe Bergdahl has been charged with "desertion with intent to shirk important or hazardous duty," as well as a lesser-known charge of "misbehavior before the enemy."
Sergeant Bergdahl was held captive in Afghanistan from 2009 to 2014 after leaving his post. He was returned to the United States after the Obama administration agreed to a prisoner swap in which five Taliban members in the Guantánamo Bay detention center were released.
The charges announced Wednesday mean that Sergeant Bergdahl will first receive an Article 32 hearing, which is like a civilian grand jury inquiry. It is designed to determine whether there is enough evidence to proceed to court-martial.
At this point, Army officials may still not go through with the court-martial. They could also refer the charges to what's known as a special court-martial, dismiss the charges, "or take any other action deemed appropriate," according to a statement released Wednesday afternoon by US Army Forces Command, which has been running the investigation out of Fort Bragg, N.C.
The "desertion with intent to shirk" charge carries with it a maximum potential punishment of a dishonorable discharge, reduction to the rank of private first class, "total forfeiture of all pay and allowances," and a maximum jail time of five years.
The "misbehavior before the enemy" is the far more serious charge, carrying with it a penalty of "possible confinement for life."
So what, precisely, does misbehavior before the enemy mean?
According to the Uniform Code of Military Justice (UCMJ), it is the charge given to any US troop who, first and foremost, "before or in the presence of the enemy runs away."
But it has several facets. The misbehavior before the enemy charge can also be levied against anyone who "causes false alarms in any command, unit, or place under control of the armed forces."
Some more old-fashioned-sounding actions that may incur a misbehavior before the enemy charge include instances when a service member "casts away his arms or ammunition" or "quits his place of duty to plunder or pillage."
In this case, it must be proven that Bergdahl had "a duty to defend a unit or place," that "the accused committed misconduct" and "thereby endangered the unit or place," and that "the act occurred before the enemy."
In order to prove the desertion charge, prosecutors will need to prove that Bergdahl "quit his (or her) unit or place of duty" and "did so with the intent to avoid or shirk certain service," according to the Army press release.
What's more, "the duty to be performed was hazardous or important" and "the accused knew that he (or she) was required for duty or service."
The chances that Bergdahl will face the maximum penalty for these charges, even if he's found guilty, are slim, analysts say.
"We have to remember that charges are allegations," says retired Maj. Gen. Charles Dunlap, former deputy judge advocate general of the US Air Force and now executive director of the Center on Law, Ethics, and National Security at Duke Law School in Durham, N.C.
The Vietnam-era case of Robert Garwood, a private who was captured by Viet Cong forces – but was later found by the Marines of having acted as a collaborator with the enemy – might offer a historical analogy, Mr. Dunlap says.
He deserted during the war but eventually came back. The panel sentenced him to a dishonorable discharge but no confinement.
The Army has released none of its evidence, citing future court proceedings. "So we just really don't know what the circumstances are," Dunlap says.
What is clear is that the charge of desertion, for example, happens the minute a soldier decides to desert "with the intent to remain away permanently." In that instant, "intent is complete," Dunlap says. "Even if you decide to come back, it would not excuse the offense itself."
Before the Article 32 hearing begins, Bergdahl's lawyer, Eugene Fidell, may ask for an administrative discharge. The Army is under no obligation to grant it, but it would mean that although Bergdahl would receive an "other than honorable" discharge – the lowest possible – he would not serve jail time.
"Gene is one of the best in the business – he's a pretty savvy guy," Dunlap says. Mr. Fidell may also decide to go through with the Article 32 investigatory process "because he may want the opportunity to put on the record whatever Bergdahl underwent while he was held captive by the Taliban."
It might not excuse the offense or render him not guilty, Dunlap adds, but it could establish mitigation.