More troops to Iraq? Six questions Pentagon needs to answer first.
As the US prepares to send 450 more troops to Iraq to help train security forces there to fight against the Islamic State, some argue that this number is simply not enough.​
Calls for upwards of 10,000 US troops to be sent back to Iraq are now coming from lawmakers and heavy weight think tank analysts.
​But advocates for the war in Iraq have tended to want to get into the weeds before asking some of the more fundamental questions – including whether more US trainers would actually improve the situation on the ground. Is there a point, for example, at which US troops can salute smartly and declare "mission accomplished," serene in having achieved a clear goal that allows them to no longer feel responsible for what happens after they leave?
Here are six of the big questions the Pentagon is grappling with, even as calls for more troops to the region continue: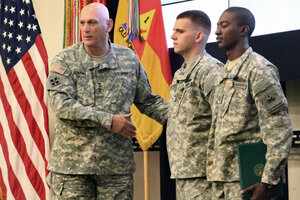 Rudy Gutierrez/The El Paso Times/AP/FILE
1.

Would more US troops improve the situation in Iraq?

Presidential hopeful Sen. Lindsey Graham (R) of South Carolina has consistently called for the US to send 10,000 more troops to Iraq.

He is backed up in this call by defense analysts like Michael O'Hanlon at the Brookings Institution in Washington, who argues that hundreds of troops is "too restrained" and 10,000 troops would make Iraq "akin to our current mission in Afghanistan, where 10,000 US troops now support the Afghan armed forces as they do 95 to 99 percent of all fighting in their country."

US military officials have been far more cautious, however. Gen. Raymond Odierno, the top US Army officer and former commander of US forces in Iraq, says that he is particularly opposed to sending any US combat troops to the region.

"I am adamant about that," he said last month. "I think it would be not helpful at all."

Beyond that, more US troop advisers embedded in Iraqi combat units "could also be an accelerant" to violence in the region, he added, including "an accelerant to sectarian issues, an accelerant to ISIL," using an acronym for the Islamic State.

This is a common sentiment among American military officers who have seen a decade-plus of war in Iraq.