A plan to help veterans from 'the first minute' they leave the service
Twenty service members and veterans die by suicide every day. Two federal agencies have launched a public health campaign to make it easier for them to understand how to get help.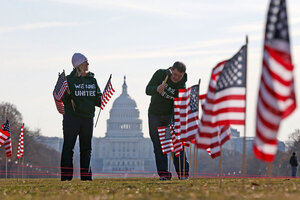 Charles Dharapak/AP
The occasion of Chris Carter's 23rd birthday in 2015 brought together his parents, friends, and fellow soldiers in sorrow rather than celebration. An Army Ranger who served four combat tours in Afghanistan, he had died by suicide two weeks earlier, his mind trapped within a distant war that trailed him home. The mourners gathered for his funeral at a church outside St. Louis, less than a mile from the high school where he had graduated five years earlier, when his future seemed incandescent and infinite.
During Mr. Carter's first tour in 2011, he lost a close friend in a bomb explosion and glimpsed the broken bodies of another soldier and an Afghan interpreter killed in the blast. He had little time to grieve. The Army deployed the Rangers – elite special operations units – for four-month tours during which the furious mission tempo seldom ebbed. Carter's platoon endured an unrelenting cycle of raids and firefights, adrenaline and carnage.
His first suicide attempt followed his final deployment in 2014. After learning the news, his mother, Beth Zimmer Carter, traveled to Joint Base Lewis-McChord near Tacoma, Wash., where he was stationed. There she saw what war had taken from her only child.
His natural charisma and openness had fallen prey to anxiety and self-isolation. His brain remained clenched by the extreme level of alertness required in combat, a condition called hypervigilance that ruptured his thought patterns and deprived him of sleep. He appeared adrift within himself.
Carter had sought counseling from military mental health providers before his fourth tour, his mother recalls, yet worried that revealing too much to them could jeopardize his Army career. Dr. Zimmer Carter, a private physician who had retired at the rank of lieutenant colonel after 23 years in the Army Reserve Medical Corps, tried to find treatment alternatives after arriving in Washington. But she felt stymied by the military mental health system and knew almost nothing about private sector options. As her concern intensified, time ran out. Her son's second suicide attempt was his last.
"I wasn't aware of what resources were available or how to navigate the problem," says Zimmer Carter, who now serves as an advocate with the Tragedy Assistance Program for Survivors, a national nonprofit that aids families of deceased service members. "Even with my military experience, and even with my medical knowledge inside and outside the military, it was hard to locate the right resources and support."
Two federal agencies have launched a public health campaign with the intent to reduce that kind of confusion and lower the rate of 20 suicides a day among service members and veterans. The joint initiative by the Department of Veterans Affairs and the Substance Abuse and Mental Health Services Administration (SAMHSA) encourages cities to forge alliances between public agencies and private organizations to expand suicide prevention strategies.
The collaborative effort can unify a city's mental health and social services programs to catch more service members and veterans in crisis, explains Cicely Burrows-McElwain, the military and veterans affairs liaison for SAMHSA.
"When you look at the problem of suicide in the military and with veterans, it's not that there aren't enough services. It's that there isn't enough coordination of those services," she says. "We want to open up communication so that there's a better understanding throughout the community for how to help service members and veterans."
Cultural competency
The VA and SAMHSA selected eight cities across the country for the campaign's initial phase and will add another 20 later this year. The agencies chose metro areas with large veteran populations and high veteran suicide rates, including Houston, Las Vegas, Los Angeles, and Phoenix, along with Albuquerque, N.M.; Richmond, Va.; and the Montana cities of Billings and Helena.
A VA report on suicide released earlier this month showed that former service members made up 8.3 percent of the US population in 2015 and accounted for 6,300 of the country's 44,000 suicides, or 14.3 percent. The agency found that 14 of the 20 veterans who died by suicide every day either lacked access to or chose to forgo VA services.
The suicide prevention campaign provides cities with guidelines created by the Centers for Disease Control and Prevention for improving the breadth and depth of supportive services for people with mental health conditions. The initiative seeks to attune those likeliest to encounter veterans in crisis – first responders, medical practitioners, employers, educators, jail and courthouse personnel – to their presence in the community.
"It's an attempt to raise cultural competency about the military and veterans," Ms. Burrows-McElwain says. "We want folks to understand that you don't have to be an expert on the military or veterans to ask a person if they're OK or if they served. The sooner we can identify someone is a veteran, the sooner they can get help, whether that's through the VA or another provider."
The veterans population exceeds 275,000 in the greater Phoenix metro area. The city's plan to cultivate awareness about military and veterans culture will build upon a statewide program called Be Connected that works to reduce suicides among current and former service members.
The program has trained 3,700 "navigators" across Arizona who steer veterans in crisis toward mental health treatment and other services, and has offered cultural competency training to public agencies and private employers statewide. Wanda Wright, director of the Arizona Department of Veterans' Services, regards the VA-SAMHSA campaign as another plank in a bridge linking the military to the civilian world.
"We're trying to get into every corner of every community," says Ms. Wright, a retired Air Force colonel. "We want to educate people so if they're dealing with a veteran who's in need, they'll have ideas for what they can do to help."
A recent CDC study showed that nearly 45,000 people died by their own hand in 2016, and suicide ranks as the country's 10th leading cause of death. More than 500 members of the military's active-duty, Reserve, and National Guard forces took their own lives last year. Zimmer Carter, who lives part of the year near Phoenix in the city of Mesa, believes the VA-SAMHSA initiative could benefit service members searching for treatment outside the military.
The Defense Department has devoted greater resources to behavioral health care over the past decade. The agency established a suicide prevention office in 2011, and senior leaders promote a message urging troops to ask for help. But many service members stay quiet for fear that a mental health diagnosis could stall or end their career.
Chris Carter realized he needed counseling after his third tour in Afghanistan and talked with a military clinician. At the same time, as one of his platoon's team leaders, he felt an obligation to the soldiers under him. He steeled himself and deployed again in 2014.
After returning to Washington, he relied on marijuana to soften the symptoms of combat trauma, and when his commanders found out, they demoted him from corporal to private. Zimmer Carter recalls the mix of frustration and desperation she felt when, with her son spiraling after his first suicide attempt, Army commanders rebuffed her inquiries about his condition.
"Here I was with lieutenant colonel credentials and I was running into resistance," she says. "But at the time, I didn't have an idea of where else to turn except the military medical corps."
The first minute
The VA's suicide report revealed that former service members age 55 and older accounted for 58 percent of the veterans who died by suicide three years ago. But the rate of suicide ran highest among veterans age 18 to 34, the generation that has borne the heaviest burden in the country's post-9/11 wars. In that demographic, suicide claimed 39 veterans per 100,000 people, compared with 25 veterans in the age group 55 to 74.
Las Vegas City Councilman Steve Seroka served as a commander during the Afghanistan War in the twilight of a 30-year Air Force career. The retired colonel, who belongs to the city's team working on the VA-SAMHSA project, describes the sense of dislocation that can afflict service members when they leave the military.
"There's no tribe," he says. "There's not the same feeling of common purpose when they return to civilian life, and there's not the same support group that they had in the service. It's easy to feel like an outsider, even in their own families, and that's when they can start to lose themselves."
Mr. Seroka endorses an approach to suicide prevention that begins long before a veteran exhibits symptoms of a mental health condition. He advocates tracking veterans as soon as they shed their uniforms, and he plans to nurture collaboration among employers, educators, and veteran services groups to expand post-military career opportunities.
"There needs to be a change in thinking," Seroka says. "We can't keep waiting until the last minute to save people. We need to start helping them from the first minute when they get out of the service. Some vets might push that help away, but at least we'll be making them aware of what's available."
Montana has the highest suicide rate among veterans in the country, at 68 per 100,000 people. A severe shortage of mental health providers contributes to the problem, and advocates involved with the VA-SAMHSA initiative in Billings consider online support services crucial to assisting more veterans in a largely rural state.
One national nonprofit, PsychArmor Institute, has joined with the VA to offer online suicide prevention training. The site also provides a range of free courses designed to smooth a veteran's re-entry to civilian life, tips for employers hiring former service members, and lessons about post-traumatic stress disorder, traumatic brain injuries, and other unseen wounds of war.
"The point is not to focus on suicide but to establish an understanding of the world of a service member or veteran," says Claire Oakley, a program director with RiverStone Health, a public health services provider in Billings. "We want everyone to be able to identify veterans and connect them to whatever kind of services can help them."
The Army restored Chris Carter's rank to corporal after his death. What his mother lost cannot be reclaimed. His suicide informs Zimmer Carter's advocacy, and she views the VA-SAMHSA campaign as a step forward in a ceaseless struggle to spare another military parent from an anguish unlike any other. The urgency remains as apparent to her as the day her son died, an uncounted casualty of war.
"We need a big community effort so that everyone is looking out for everyone else," she says. "We all need to come together."