Another Biden for Senate?
Beau Biden, son of the vice president, is back from a year in Iraq. He'd start a Senate run in Delaware with a leg up, but 2010 looks to be a tough election for Democrats.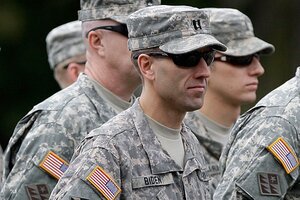 Rob Carr/AP
The return of Capt. Joseph R. "Beau" Biden III to Delaware, after nearly a year in Iraq as a national guardsman, revives talk of the future of his dad's old Senate seat – and with that, the future of the Democrats' 60-seat majority in the upper chamber.
Captain Biden, Delaware's 40-year-old elected attorney general, is widely assumed to be preparing a run next year for the seat once held by his father, Vice President Joe Biden. A placeholder currently holds the job, the senior Biden's former Senate chief of staff, Ted Kaufman.
Vice President Biden spoke Wednesday at the return ceremony of his son's national guard brigade in Dover, Del. The Biden name holds particular cache in Delaware; Joe Biden served in the Senate for 36 years, leaving only to become vice president – the first Delawarean to reach that level. And the well-known bond between father and son dating back to the death of Beau's mother, Joe's first wife, right after Joe's first election to the Senate, adds a level of poignancy.
"There's always kind of a love story there with Beau," says Sam Hoff, a professor of history and political science at Delaware State University in Dover.
But there are no guarantees in politics.
Delaware's only member of the House, Rep. Mike Castle (R), is thinking of jumping into the Senate race. "If he does, it's a tossup," says Jennifer Duffy, Senate analyst at the Cook Political Report.
And in an election cycle that is expected to be tough for the Democrats, the Delaware seat is one the national party does not want to have to invest in heavily.
If Representative Castle retires, the only other option the popular 70-year-old is reportedly considering, then the seat is expected to stay in Democratic hands. The good news for Democrats is that, either way, Castle appears set to leave the House, and that seat is a prime pickup opportunity for the Democrats.
Assuming that the junior Biden does run for the Senate, he will start mostly with positives and some negatives. There's the Biden name and with it, the ability to raise money, fast. There's also the fact that he did not try to get out of serving in Iraq when his guard unit was called up.
But even before Beau deployed to Iraq, there was some blowback over the way now-Senator Kaufman was handed the seat to keep it warm for Beau.
"I think I called it a fiefdom at the time," says Professor Hoff.
Names of other Delaware Democrats are being floated for the Senate race, but it would be tough to beat a Biden in the primary.
If the Biden name does return to the Senate, it will be a throwback to the days when political dynasties were more common. For the first time since 1953 (except for a brief period from 1961 to 1963), there are no Kennedys in the Senate, following the death last month of Sen. Edward Kennedy of Massachusetts. The next generation of Kennedys is largely not involved in elective politics, except for Rep. Patrick Kennedy (D) of Rhode Island, son of the late senator.
There are no more Bushes, Clintons, or Doles in elective office.
On the Hill, a smattering of political heirs hold office, such as Sen. Evan Bayh (D) of Indiana, whose father was also a senator from Indiana. But if Beau Biden joins the Senate, he may look like a bit of a throwback to the days when politics was more of a family business.
----
Washington's real power brokers
How lobbyists sway big issues, from healthcare to energy and defense.
----
Follow us on Twitter.