Charles Rangel censure vote: Five others the House has slapped down
Rep. Charles Rangel (D) of New York on Thursday may become the 23rd House member to be censured by his colleagues, in the history of the institution. For lawmakers who break the rules, censure is one of the punishment options specified in the US Constitution (the others are expulsion, reprimand, or a fine). A public verbal rebuke from the House speaker is usually the outcome of a censure vote – humiliating, yes, but much less draconian than expulsion.
Mr. Rangel is in trouble for 11 ethics violations related to his personal finances and fundraising efforts for a New York college. A censure vote has not occurred in the House in 27 years. Here are the five congressmen censured most recently, for matters ranging from fraud to sexual misconduct to "unparliamentary language."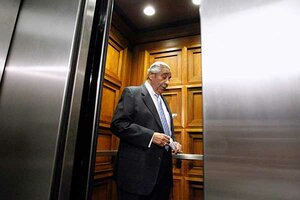 Alex Brandon/AP
Rep. Daniel Crane, 1983

The House voted to censure Rep. Daniel Crane (R) of Illinois for sexual misconduct involving a 17-year-old congressional page. The House Ethics Committee had initially recommended a reprimand, but many felt his behavior warranted harsher punishment. The vote in favor of censure, on July 20, 1983, was 421 to 3. Mr. Crane apologized for his actions. "I'm sorry that I made a mistake," he said. "I'm human, and in no way did I violate my oath of office."

Crane lost his next bid for reelection in 1984. The congressional page program was also more closely monitored.