The Top 10 political quotes of 2010
The "who said what" buzz came in full force this election year through campaign ads, public appearances, and even tweets. But who are the politicians that shocked and zinged the most? Here's a roundup of the year's most memorable political quotes.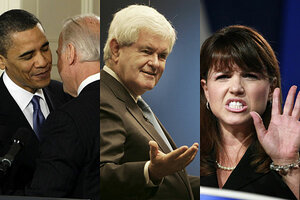 AP/File
1.

Christine O'Donnell: 'I'm not a witch'

The Republican candidate for Senate from Delaware made a rather remarkable proclamation after TV talk show host Bill Maher leaked a 1999 clip showing her saying she dabbled into witchcraft when she was a teenager.

Soft music plays during Christine O'Donnell's campaign ad as she says: "I'm not a witch. I'm nothing you've heard. I'm you."

Ms. O'Donnell lost the election to Democrat Chris Coons. But her unusual political maneuver won her the No. 1 spot on the best quotes of the year list by Yale University librarian Fred Shapiro. "It was such a remarkable unconventional quote to be a part of the political discourse," Mr. Shapiro said.