Did Saddam Hussein target Donald Rumsfeld's kids? Five surprises from memoir.
Donald Rumsfeld has a new book out, called "Known and Unknown." The ex-secretary of Defense under President George W. Bush has been out on the chat circuit talking up the book, as authors do. Here are five things we learned from the memoir and/or Donald Rumsfeld interviews.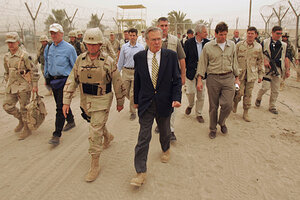 David Hume Kennerly/AP/File
1.

He wishes he'd quit earlier

He tried to resign in 2004 after the media published graphic images depicting abuse of prisoners at Abu Ghraib prison in Iraq. Mr. Bush talked him out of it. This week, he told ABC's Diane Sawyer that America probably "would have been better off" if he'd gone through with it.