Guns in government buildings? Four controversial gun rights bills in Arizona.
The Arizona Legislature is considering an array of bills that would ease state gun control. The bills have generated controversy, since they were crafted only weeks after the Jan. 8 mass shooting in Tucson, Ariz., that killed six and wounded US Rep. Gabrielle Giffords and 18 others.
Among the gun-related bills working their way through the Republican-controlled legislature: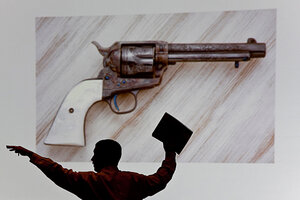 Mark Henle/The Arizona Republic/AP/File
1.

A state gun

Senate Bill 1610 would make the Colt single-action Army revolver the official state firearm. If approved and signed into law, the measure would follow the lead of Utah, which in March adopted the Browning M1911 semiautomatic pistol as its official firearm. Arizona lawmakers say the historic revolver would honor Arizona's Wild West heritage.