Government shutdown Friday? Why Tuesday could be crucial.
Rep. Paul Ryan will release a 'dramatic' budget for 2012 Tuesday that looks to cut $4 trillion over 10 years. That plan makes the $30 billion at issue in a potential government shutdown over 2011 spending look like small potatoes.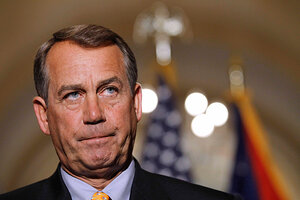 Alex Brandon/AP
Although a government shutdown is looming at week's end if no deal is struck on spending for current fiscal year, House Republicans are preparing to open a second front in the budget wars Tuesday. Rep. Paul Ryan (R) of Wisconsin is set to release the budget for 2012, which will seek to cut at least $4 trillion from federal spending over the next 10 years, establish spending caps, and scale back entitlement programs.
The release of the 2012 budget Tuesday could change politics surrounding a potential government shutdown Friday. Already, some Republicans are suggesting that they should give in to Democrats' demands on spending for 2011 and avoid a government shutdown so they can focus their efforts on the 2012 budget. The logic is simple: the 2012 budget shifts the scale of proposed cuts from billions to trillions.
As a result, House conservatives may be able to more easily back a compromise plan on 2011 spending, which includes about $30 billion less in cuts than they want.
The 2012 budget "is a dramatic proposal, and it gives the freshmen some cover," says Julian Zelizer, a congressional historian at Princeton University in New Jersey. Congressman "Ryan is talking about going after all the big entitlements and making the kind of cuts in the future that will fundamentally restructure government."
"They've made this [2012] budget symbolically so charged that it gives Republicans an excuse to compromise [on FY 2011 spending] based on the compromise that they're going to go big in the budget," he adds. "That's quite useful."
'Time is not on our side'
The compromise deal for 2011 spending would reportedly include about $32 billion in spending cuts. But House and Senate negotiators who worked through the weekend are still struggling over which programs to cut. Without agreement on a 2011 spending bill, government funding runs out on April 8.
"The other side isn't being reasonable," said Senate majority leader Harry Reid (D) of Nevada in a floor speech on Monday. "Republican leadership has a very big choice to make: whether it will do what the tea party wants it to do or what the country needs it to do. Time is not on our side."
In response, House majority leader Eric Cantor (R) of Virginia shot back: "Republicans want to cut spending and to get America's fiscal house in order, we do not want to shut down the government. Yet, despite our repeated calls for fiscal sanity, Senate Democrats still refuse to act or listen to the American people."
Some dozen House GOP freshmen later on Monday continued their daily protest march up the Senate steps to demand that Senate Democratic leaders pass a full-year spending bill with deeper cuts. Several said that the time for a showdown with the Senate on spending is now, rather than later on the budget or debt ceiling. "If we can't make these relatively small cuts now, how are we going to deal with the budget?" said freshman Rep. Tim Griffin (R) of Arkansas.
"We have much bigger fish to fry coming up, but that is not a reason to ignore the issue of the [FY 2011 continuing resolution] – quite the contrary. I think the CR is a test of whether we're going to be able to do anything serious about the budget and debt in the days to come."
Behind the rhetoric
But behind the rhetoric, GOP leaders are looking ahead at the tough battles to come on the 2012 budget and wondering whether they should risk a government shutdown now, when the higher-stakes issues on the size and scope of government are still to come.
If Republicans are to risk a government shutdown, it should not be over current spending but over more powerful changes to the scope of government, such as the Ryan budget proposal, says Rep. Jack Kingston (R) of Georgia, a member of the House Appropriations Committee that is negotiating 2011 spending cuts.
"Politically, the market might allow for one or two [government] shutdowns, but we have to use that not only to save $1 billion or $2 billion but to push big, significant reform," he says.