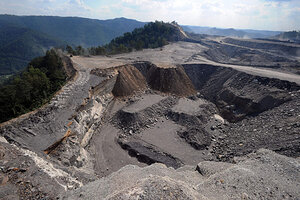 Jeff Gentner/AP/File
3.

Mining and mountaintop removal

• Rep. Morgan Griffith (R) of Virginia proposes an amendment to prohibit the use of funds by the EPA, the Army Corps of Engineers, or the Office of Surface Mining Reclamation and Enforcement to carry out or enforce any policy set forth in a recent water-quality memorandum issued by the EPA. The Obama administration has been withholding permits for surface mining operations – which environmentalists call mountaintop-removal mining – in order to study the effects of the process on streams and wetlands.

• Rep. David McKinley (R) of West Virginia proposed an amendment that would prohibit the EPA administrator from using funds to carry out Section 404(c) of the Federal Water Pollution Control Act. If it becomes law, environmentalists say, the EPA would lose oversight authority to revoke or veto permits granted by the Army Corps of Engineers to allow coal-mining companies to put fill and other debris into streams.